By Greg Carannante
City & Shore Magazine 
Since the days when Van Halen, Aerosmith and Tom Petty and the Heartbreakers ruled the airwaves, South Floridians have gotten their radio rock 'n' roll from Paul Castronovo. But it's been his "one of us" persona and his way with words — plus his gift for seldom finding himself at a loss for them — that has established him as a South Florida voice for more than 30 years.
He's best known as the witty, outspoken host of The Paul Castronovo Show on iHeartRadio's BIG 105.9-FM and the former co-host of the Paul and Young Ron Show — both often outlandish and topically SoFlo brands of talk radio.
"I'm a South Floridian," he told the Sun Sentinel, which dubbed him "the clown prince of South Florida radio." "I grew up here [in Lake Worth]. I went to high school here. I surfed here. I played football here. I've always been the local guy. From West Palm Beach to Key Largo, they get me."
Castronovo says his current show, co-hosted by Heather Nelson and Mike Anderson, consistently scores in the Top 3 of listener ratings for men ages 25 to 54, as well as the Top 5 among all adults in that age group. A five-year contract extension signed last year will keep him on the classic-rock station through 2026, eclipsing his 40th year on air since his 1984 debut.
"Radio is so transient and so many people are from somewhere else," he says. "Guys have come in and tried to compete with me on other rock formats, but people are like, 'Hey, Paul's our guy. He's a Dolphins fan. He likes to go fishing.'"
And Castronovo, 61, has given back to the community both on the air and off. His shows have raised millions of pounds of food for Feeding South Florida, for instance. And he has taken leadership positions with the Miami Dolphins Foundation, co-chairing its charity effort, Fins Weekend, as well as serving as a board member for the Guy Harvey Ocean Foundation and the Ocearch data-collection organization.
The Castronovo name has even extended into the world of best-sellers, when South Florida humorist Dave Barry named a character after him in his novel, Insane City. A real-life appellation Castronovo might cherish even more dearly is having been honored as an "Alumnus of Distinction" by his beloved University of Florida.
A resident of Boca Raton, he and his wife, Gina, have two sons, Nic (a UF grad) and AJ (a UF senior). He took a breather from a recent workout (he's proud to say he's dropped 150 pounds) to answer our recurring set of Quote Unquote questions.
 *****
Aside from the weather, what do you enjoy most about South Florida?
I'm a water guy… started as a surfer, then my surfboard became a center-console fishing boat that I fish and dive on every weekend. Give me the ocean and a cocktail and I'm happy.
Aside from the weather, what do you dislike most about South Florida?
Have you driven on I-95 lately? It's like Mad Max Beyond Thunderdome! I get passed and flipped-off daily — and I'm driving 80.
Are you a beach person or a pool person?
Even though I have a pool, I'm a beach person. I just don't understand why some people use it as their personal ashtray. I believe we must protect our oceans and beaches. Am I a fan of sea lice? No. But the ocean wins.
When in your life are you or have you been the happiest?
The Paul Castronovo happiness meter (my top 5 in no particular order): marrying Gina; the birth of my son, A.J.; Fishing the Tropic Star Lodge in Panama; my induction into the University of Florida Journalism School Hall of Fame; and, most recently, I'm extremely happy with myself for finally getting in shape!
What do you do when you're stuck in a traffic jam on I-95?
I make my living when people are stuck in traffic jams, so of course I'm listening to my show or the tunes on BIG 105.9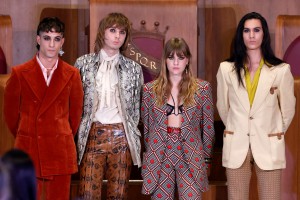 Måneskin, photographed by Riccardo De Luca of the Associate Press
What music are you listening to now?
I'm a classic rock fan, however every now and then a young rock band breaks through. Recently, I'm fascinated with the Italian band, Måneskin. Their hit, Beggin' (originally recorded by Frankie Valli and the Four Seasons in 1967) is fantastic.
Are you a fan, and if so, of what?
I think you would call me a Super Fan of the Florida Gators football team. It's a pilgrimage to Gainesville every Saturday in the fall, something I've been doing religiously since 1984. We have a new coach, and hopefully my son, who's a senior this year, will have a fun, winning season — and I'll be right there with him.
If you had to choose: Beatles or Stones?
I've been having the Beatles/Stones debate for decades on my radio show and over drinks with friends. When I was 4, I had a Beatle wig and my parents bought me the Help! album. I don't remember my life without them. Over the years I've seen the Stones all over the world and have come to love them. Sympathy for the Devil is a masterpiece. But, since you're asking, and after seeing Get Back, it's hard to argue … it's the Beatles.
What are your social media user names?
I'm having a blast on TikTok: @ThePaulCastronovo; Facebook: @PaulCastronovo; Instagram @castronovoshow; Twitter: @paulcastronovo
Apple or Android?
Apple! I don't trust Android users.
Who is your real-life hero or heroine?
Have you met my wife, Gina? She beats breast cancer, then is nearly killed in a head-on collision, yet continues to amaze me with her strength and fortitude every day. And she puts up with me. She's an inspiration.
What car are you driving now?
The Ultimate Driving Machine, a blue BMW 525i. It's a blast.
If you had to choose: Rocky or Raging Bull?
How can you put two of the most iconic Italians up against each other? But for pure acting, and realism … Raging Bull. That movie puts you in New York in the early 1950s. It's a perfect film, and De Niro and Pesci nailed it.
What do you like most about yourself?
Aside from still having my hair, I think my sense of humor would be my best trait. I do my best to not take myself, or anything else for that matter, too seriously.
What places in South Florida do you recommend to guests visiting from out-of-town?
People are ALWAYS asking me for advice on where to go or what to do when down here. If they're in Miami, I send them to Joe's Stone Crab (is there anything better?) or Michael's Genuine (Chef Michael Schwartz is a genius). In Fort Lauderdale: Anthony's Runway 84 (real N.Y. Italian) or Tacocraft (disclaimer: I'm a partner in the company — you have to try the Castronovo Quesadilla and the best Oxtail Empanadas you've ever had). In Key West: Latitudes (get a reservation for sunset) and the Papa's Pilar Rum Distillery (interesting and tasty). In Palm Beach: Cafe Boulud for the best Negroni cocktail I've ever had, and since I live in Boca: Casa D'Angelo for the ricotta gnocchi.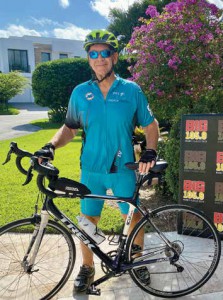 The new, 150-pounds-lighter Paul Castronovo.
If you could change one thing about yourself, what would it be?
I changed my physical appearance in the last year, but I'm thinking if I could have more patience, that'd probably make me a better person. I mean, I'm not road-rage impatient, but sometimes I get frustrated when things don't go the way I expect them to. Just ask my coworkers, Heather and Mike.
What do you consider your greatest achievement?
Aside from staying married for 25 years and raising two really cool boys into men, I think my greatest achievement is being on the radio and performing at a consistently high level in the Miami/Fort Lauderdale market since 1984 — with many changes, somehow not getting fired, and still doing it today.
###
Lead photo of Paul Castronovo in his iHeart media studio by Amy Beth Bennett; secondary photo courtesy of Paul Castronovo
Related Articles
Share
About Author
(0) Readers Comments