Editor's note: For the past 10 years, Elyse Ranart, City & Shore Magazine's Fashion and Style Director, has been on the lookout for seasonal trends and enduring style. Starting today, she's adding an online blog of her shopping and scouting trips through South Florida boutiques, stores and shopping centers. "People often ask me for advice where to purchase things, or what to buy to go with what they have in their closet, or what's interesting going on around town," Elyse says. "And now, I will here."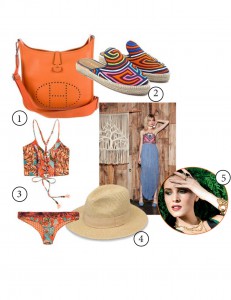 No. 1
If you're looking for a great handbag, without a great-big price, check out this Hermès cross-body style from Couture Upscale Consign in Fort Lauderdale. I found an amazing collection there of pre-owned designer bags in mint condition. Couture Upscale Consign, 954-565-1348, coutureupscaleconsign.com.
No. 2
As a chic alternative to flip-flops, the multi-colored Mola Slide, from Kaanas, will go with just about anything in your wardrobe.  See kaanas.com. 
No. 3
It's never too early to shop for swimwear in South Florida. I found this two-piece from Maaji – one of my favorite swimwear designers – among the collection at Lilac & Lilies in Fort Lauderdale. Lilac & Lilies Boutique, 2541 E. Sunrise Blvd., Fort Lauderdale, 954-530-3109.
No. 4
I love this wide-brimmed fedora for its classic shape, versatility and face-saving shade. I found the "Josie," from Wallaroo Hat Company, at Charlie's Locker in Fort Lauderdale. This one's a neutral shade, but you can see the entire spring/summer 2017 collection at wallaroohats.com. Charlie's Locker, Harbor Shops, 1865 Cordova Road, Fort Lauderdale, 954-523-3350.
No. 5
While looking for jewelry for our February fashion shoot, I was impressed with Gucci's Horsebit collection at Weston Jewelers, in Weston Town Center. This multi-link bracelet is classic chic and works as well with denim as it does your favorite "little black dress." See more in our "Natural Beauties" story, coming Feb. 6 in print, online and iPad. Weston Jewelers, 1728 Main St., Weston Town Center, 888-389-7990, westonjewelers.com.
Write to Elyse at ERanart@cityandshore.com.
Related Articles
Share
About Author
(0) Readers Comments