By Greg Carannante
City & Shore Magazine 
Fifty Christmases ago, when a little caravan of boaters decorated their boats and set off up the Intracoastal, they couldn't have known they were launching an annual holiday tradition that would eventually become "the world's most-watched boat parade" — as well as the family-friendly counterbalance to Fort Lauderdale's reputation as the capital of Spring Break debauchery.
"It was very organic, the group of people who decided to decorate their boats and go out," says native Fort Lauderdale resident Lisa Scott-Founds. "Word was on the street that it was happening. It was so small. There were probably about 10 boats."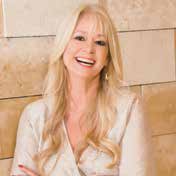 Lisa Scott-Founds (Courtesy)
Beginning near the 17th Street Causeway and cruising up to Las Olas Boulevard, that little cruise has, of course, grown into the Seminole Hard Rock Winterfest Boat Parade, one of the largest one-day outdoor events in the country. After last year's Covid cancellation, on Dec. 11 the parade will once again have the New River and Intracoastal shimmering with over 100 vessels from sailboats to showboats and kayaks to megayachts, all done up in radiant holiday regalia and viewed by about a million people along a 12-mile route from downtown Lauderdale to Pompano Beach.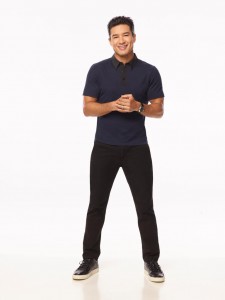 Mario Lopez (Courtesy photo)
This year's just-announced grand marshal already has a head-start on the holidays. Actor and TV-host Mario Lopez, a veteran of Lifetime holiday fare, is headlining another seasonal movie for the network. In Holiday in Santa Fe, Lopez plays a member of a family-run business that makes holiday ornaments. He also makes a dance video with his niece, played by 11-year-old Gia, one of the actor's three real-life kids. The movie premieres the day before the boat parade, Dec. 10, at 8 p.m. on the Lifetime network.
Also, the 48-year-old actor portrays football coach A.C. Slater in Peacock's Saved by the Bell. The second season of the 90s-sitcom reboot just premiered on the streaming service Nov. 24. A wallpaper-like presence on the TV screen, Lopez also co-hosts the Access family of pop-culture news and gossip shows, Access Hollywood, Access Daily and All Access.
Scott-Founds, who turns 58 in December, was 8 years old when she saw her first boat parade. "My mom found out about it through her friends. I remember taking the blanket to the end of one of the streets in Rio Vista and making little sandwiches and getting ready for something that we'd never done before. It was a highlight of my young childhood and ever since then I made sure to watch every parade. It was such a tradition for us. It brought our family together."
What she remembers most from those early parades is "the beauty of the camaraderie, the beauty of celebrating and the awe of the decorations. Back then it was all about Christmas. Here we lived in the Venice of America and we could see boats every day of our lives, but to see them all together and illuminated, and the bonding and sharing of that cheer and spirit of the holidays — that really captured it for me."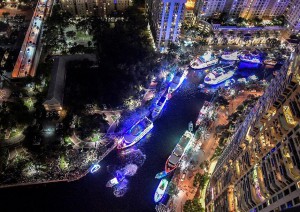 Photo by Michael Laughlin
It made such an impression on Scott-Founds that, beginning as a volunteer in 1987, she made her way to Winterfest president and CEO in 2006. A year later, another impression from her youth turned out to inspire a major turning point for the parade.
Her teen-aged memory of a smaller boat parade held by the Jaycees on the New River in the mid-'70s was partly responsible for moving the Winterfest parade to the New River from Port Everglades, where staging took much longer.
"I woke up at 4:30 in the morning and said I'm gonna move the boat parade. My husband thought I was crazy. He said, 'Honey, you're dreaming, go back to sleep.' I said, 'I'm not dreaming.'"
It took about six months for Scott-Founds to run the plan up the municipal, marine and sponsor flagpoles and get it approved.
"By moving it to the New River," she says, "we were able to cut the parade time down by about two hours and also add about 450,000 spectators. It also created this magnificent staging area downtown on the New River, where, as the sun goes down, the lights on the boats are shining and the people are rehearsing and the music is playing and the choreography is happening. It's just an absolute vision of our community pulling together."
Under the umbrella of Winterfest, Scott-Founds's leadership and, more recently, the Seminole Hard Rock partnership, the parade has swelled into a spectacular mini-season of ancillary on-shore events. Through the decades they have included a glitzy black-tie gala, a "white hot" launch party, a "beach ball" concert, a golf tournament, a family fun day, a New Year's Eve celebration, a smaller boat parade in Pompano Beach — and, of course, a captain's log of celebrity grand marshals. Their names have ranged from Pitbull to Regis Philbin, Kim Kardashian to Shaquille O'Neal, and Flo Rida to Willard Scott, who was the first national grand marshal in 1984. The late weatherman enjoyed the hoopla so much that he returned for the next two parades.
Legendary comedian Bob Hope wasn't a grand marshal, but he put Winterfest on the national map when he set his yearly "Christmas Special" against the backdrop of the 1987 parade. The TV show was viewed by an estimated 42 million viewers.
No offense to the real-live stars, but of course it's the boats that are really the stars of this show, their decorations growing more dazzling and high-tech each year. Since the inaugural "A Tropical Fantasy" in 1983, the boats have interpreted each year's theme with lights, music, animation, props, performers and other displays of revelry. Of course there have been low-tech highlights, too — such as the Swap Shop Circus Barge that in 1991 featured a crew of elephants, bears, acrobats and clowns.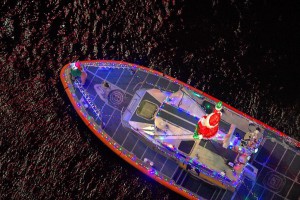 The theme of this year's parade is "50 Years of Hard Rockin' Fun," featuring iconic rock images, music and décor. It stages at 6:30 p.m. on Dec. 11 on the New River in downtown Fort Lauderdale, along the docks west of Stranahan House to the Broward Center for the Performing Arts. Leading up to the big night are the Black Tie Ball on Dec. 4, a "winter wonderland" with performances from the musical Frozen, and the Grand Marshal Reception on Dec. 10. Both events are at Seminole Hard Rock Hotel & Casino, Hollywood.
This year's parade features a new viewing area at Las Olas Intracoastal Promenade Park, which replaces Birch State Park as the viewing site. "We're kind of going back to our roots," Scott-Founds says. "We used to have our viewing area there at the bottom of Las Olas where the marina is."
Billed as a "Party in the Park," the festival atmosphere will include food, beverages, a variety of activities like photos with Santa, and a post-parade concert. Gates open at 4 p.m. and the parade arrives at 7. Tickets are $25 adults, $15 children. There is also a VIP viewing area at Laura Ward Park, which also hosts the parade judges and the filming of the WSVN-TV show, also livestreaming on digital video channel Eye On South Florida.
  For more information, visit winterfestparade.com, call 954-767-0686 or follow on Facebook (@winterfest.parade) and Instagram (@WinterfestInc).
Main photo: Mario Lopez (Courtesy)
Related Articles
Share
About Author
(0) Readers Comments