By Greg Carannante
City & Shore Magazine 
Like a viral Scrooge, the pandemic basically turned holiday show-going into no-going. But this season, holiday stage lights are shining bright.
Concerts, ballets and theatrical productions are spreading holiday cheer with performances that range from the traditional (The Nutcracker) to the not-so-traditional (The Hip-Hop Nutcracker), from the classical (Messiah) to the country (A Holly Dolly Christmas), from the nice (Rudolph: The Musical) to the naughty (A Drag Queen Christmas).
Here's a peek at some of the entertainment goodies in Santa's South Florida bag.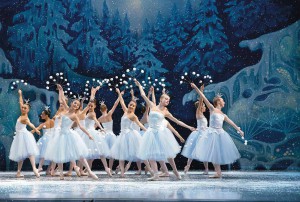 Miami City Ballet's Nutcracker (Courtesy)
'Nutcracker' Chestnuts
If it's the holidays, somewhere a toy nutcracker is coming to life, mice are munching on an army of gingerbread soldiers and the whole thing's not over until the Sugar Plum Fairy dances. Performances of The Nutcracker are as quintessentially a holiday ritual as the Christmas light display that can be seen from space. In South Florida alone, there are at least six different productions and well over two dozen performances of the Tchaikovsky-scored ballet. Among them:
  Miami City Ballet: With its distinctively colored interpretation of George Balanchine's The Nutcracker, MCB returns to a major stage for the first time since last year's pandemic-shortened  season. Designed in tropical hues and with stunning stage effects, the production jetés off the stage with more than 100 dancers and a live orchestra. Broward Center, Dec. 10-12, $34-$145; Arsht Center, Dec. 16-26, $34-$125; Kravis Center, Dec. 29-30, $34-$109. Miamicityballet.org
  Arts Ballet Theatre of Florida: Choreographed and directed by ballet master Vladimir Issaev, the professional company's presentation features its own dancers in the principal roles, complemented by a community cast of character artists and children. Aventura Center, Dec. 10-12, $40, aventuracenter.org; The Parker, Dec. 17-19, $26.75-$46.75, parkerplayhouse.com
  The Hip Hop Nutcracker: For those who prefer their Nutcracker to bust a move, this vibrant mash-up of breakdancing and Tchaikovsky spins the classic on its head in a contemporary New York City setting. In its seventh season, the contemporary dance spectacle features a dozen all-star dancers, a DJ, a violinist and hip hop founding father MC Kurtis Blow. Ho-ho. Kravis Center, Dec. 10, $25-$95, kravis.org; Arsht Center, Dec. 11, $29-$79, arshtcenter.org
 Symphonic Sleigh Rides
  Messiah: Handel's towering oratorio was written for Easter — its second movement's interpretation of Christ's Passion not exactly resounding in the Christmas spirit. Also written for modestly sized productions, it has nevertheless in its 280 years become a Christmas tradition distinguished by full-blown orchestral and choral performances. No exception is the South Florida Symphony Orchestra's presentation with the South Florida Symphony Chorus at The Parker. More familiar to pop-minded audiences, the newly reimagined venue has apparently classed up more than its architecture. The Parker, Dec. 1, $15-$95, parkerplayhouse.com
  Holidays of the Americas: Embarking on a new tradition, the Symphony of the Americas presents a globe-trotting celebration of the sounds of the season. Wielding the guest baton is William Garfield Walker, a rising young conductor who has been hailed as a "modern day maestro." He is chief conductor of Vienna's newest professional orchestra, Nova Orchester Wien (NOW!). The Symphony is accompanied by The Girl Choir of South Florida and Florida Singing Sons. Broward Center, Dec. 3 and 4, $35-$75, sota.org
Swans a-Singing
There will be plenty of vocal pop holiday music decking the halls, too. Shows range from yuletide tributes like Bee Gees Christmas (Dec. 22, The Parker) to the candlelit choral fireworks of A Seraphic Fire Christmas (Dec. 12, All Saints Episcopal Church). In between are a few standouts: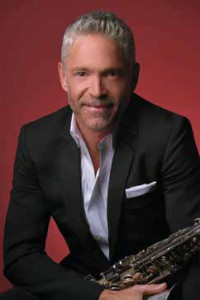 Dave Koz (Courtesy).
  Dave Koz & Friends Christmas Tour 2021: This is why they call him Santa Koz — the jazz sax man launched his first Christmas tour over two decades ago. This season's return visit features the accomplished lineup of guitarist Jonathan Butler, saxophonist Richard Elliott, trumpeter Rick Braun and ingenue Rebecca Jade bringing the vocals. Fresh takes on holiday classics, including a Hanukkah medley, and the players' individual hits will make spirits … smooth. Broward Center, Dec. 1, $49-$199, browardcenter.org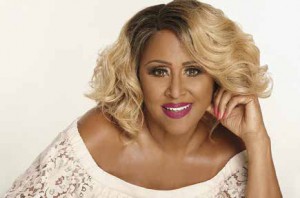 Darlene Love (Courtesy)
  Darlene Love, Love for the Holidays: If the Grammy-winner's catalog consisted only of her signature song, Christmas (Baby Please Come Home), it'd be enough to secure Love's legacy. Buttressed by Phil Spector's Wall of Sound, the rocker blew up the relatively saccharine world of holiday music in 1963, was covered with similar bombast three decades later by Mariah Carey, and was ranked No. 1 on Rolling Stone's 2010 list of The Greatest Rock and Roll Christmas Songs. Any holiday playlist remains incomplete without it. When Love comes to town, expect her powerhouse performance of it to bring the renovated house down. The Parker, Dec. 12, $37.50- $67.50, parkerplayhouse.com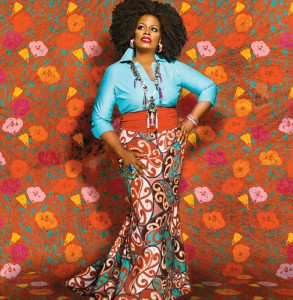 Dianne Reeves (Courtesy)
  Dianne Reeves, Christmas Time Is Here: The diva with the sensationally supple voice puts some jolly in her jazz as she digs into her celebrated album Christmas Time Is Here. With the kind of mesmerizing interpretive stylings that put her in the same sentence as Sarah Vaughan and Ella Fitzgerald, the five-time Grammy-winner delivers distinctive renditions of holiday classics like Little Drummer Boy, I'll Be Home for Christmas and Let It Snow. Arsht Center, Dec. 17, $40-$115, arshtcenter.org
Theatrical Tinsel
  Jacob Marley's "Christmas Carol": An intriguing and perhaps welcome alternative to your hundredth viewing of It's a Wonderful Life, this City Theatre production spins off the Dickens classic onto Scrooge's old business-partner turned ghost. Playwright Tom Mula's one-man adaptation from his own novella is staged at The Carnival Studio Theater, the Arsht's intimate black-box space. Arsht Center, Dec. 2-19, $50-$55, arshtcenter.org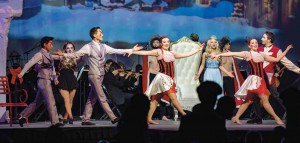 Cirque Musica Holiday Spectacular (Courtesy).
  Cirque Musica Holiday Spectacular: This fusion of holidays and circus — call it "Cirque du Sleigh" — features Cirque Musica's chills and thrills performed to a holiday soundtrack. "A show for the entire family" — the phrase was made for this. Coral Springs Center for the Arts, Dec. 16, $42.95-$197.95, thecentercs.com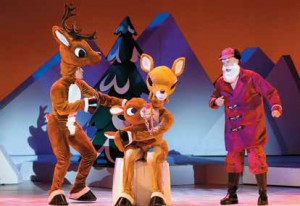 Rudolph the Red-Nosed Reindeer: The Musical (Courtesy)
Rudolph the Red-Nosed Reindeer: The Musical: The stop-motion animated classic is television's longest continuously running Christmas special (and, though beloved, looks it). But it gets new life in this stage production that regenerates all the characters in dazzling costumes and sets so bright you might even say they glow. Broward Center, Dec. 22, $29.50-$109.50, browardcenter.org; Kravis Center, Dec. 23, $21-$86, kravis.org
 Editor's note: Please confirm performances and COVID precautions prior to going to the theaters.
 Main photo: Hip Hop Nutcracker (Courtesy)
Related Articles
Share
About Author
(0) Readers Comments