By Greg Carannante
City & Shore Magazine 
As a youngster growing up in Boca Raton, Kendra Erika already knew she really wanted to be a singer. And the fact that she was tone-deaf? Well, that just wasn't going to stop her.
"My parents exposed me to a lot of Disney princess movies and Broadway shows — Mary Poppins, The Sound of Music and many others that were centered around music," she says. "I was enamored of it all and knew that's what I wanted to do. I wanted to be the one performing, inspiring and having people feel something."
Undaunted, Erika spent years in classical training just to learn the most fundamental skill for any vocalist: how to sing on key. And it paid off. At ages 13 and 14, she won the Boca Raton Future Stars competition with her renditions of Andrea Bocelli's Time to Say Goodbye and Wishing You Were Somehow Here Again from Phantom of the Opera. During her middle and high school years at St. Andrew's School, she performed in productions of Phantom, Hansel & Gretel and The Sound of Music at Little Palm Family Theatre and Sol Children Theatre in Boca Raton.
After college, the young girl's dreams eventually blossomed into a recording, performing and songwriting career elevated by a succession of pop and dance songs and videos that have scored millions of YouTube views. And by 2019, when her third Top 10 dance hit, Self Control, reached No. 1 on the Billboard Dance Chart — and last year, when the follow-up, Avalanche, became a Best Pop Song finalist in the Palm Beach International Music Awards — all of her youthful determination and hard work surely seemed to have been worth it.
"Being tone-deaf was somewhat of a blessing because it was something I had to work extremely hard to overcome," says the 27-year-old songstress, whose bold, old-Hollywood style has been compared to Lana Del Rey's. "I don't take my voice for granted and appreciate that I can use it wisely and for a greater good."
Erika does more than talk the "greater good" talk. She is donating a portion of the profits from her latest release, Song of Hope, to War Child, a global charitable organization that helps women and children in war-ravaged regions. Co-written by Erika and recorded remotely in a Hollywood studio, the song and its promotion are also helping to shed light on War Child's humanitarian efforts.
"Song of Hope was the first song I wrote when we initially shut down [for Covid]," she says. "It's that beacon of light at the end of the tunnel during these trying times."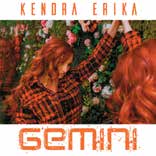 Erika, who lives in Delray Beach, is putting together a new album to be released later this year on her own label, Oystershell Music. While shooting a video for her new single, Gemini, she found some time to answer our recurring set of Quote Unquote questions.
Aside from the weather, what do you enjoy most about South Florida?
There's always something to do.
Aside from the weather, what do you dislike most about South Florida?
Lurking gators on the golf courses!
Are you a beach person or a pool person?
If I want to go to the beach, I'll go to the beach. If I want to go to the pool, I'll go to the pool. I'm both a beach- and pool-type person.
When in your life are you or have you been the happiest?
When people let me be myself so I can do my thing freely without limitations. Also, when I'm taking a hot shower or bath after a busy day.
What do you do when you're stuck in a traffic jam on I-95?
Throw on a podcast, a comedy show or call up a friend who can keep me entertained.
What music are you listening to now?
Anything that I come across while doing my own research. As of now, I'm all into deep chill house mixes, saxophone mixes and anything that caters to the mood I want to be in.
Are you a fan, and if so, of what?
I'm a fan of being able to create freely, as well as a fan of old movies.
If you had to choose: Beatles or Stones?
Being that I'm working to get on the cover, Rolling Stones!
What are your social media handles?
Instagram: @kendraerika
Twitter: @KendraErika
TikTok: @kendrerika
Apple or Android?
Eve got in trouble for taking a bite out of it.
Who is your real-life hero or heroine?
Lady Diana.
What car are you driving now?
2021 Honda Civic Sport. I do rideshare apps a lot, though.
If you had to choose: Rocky or Raging Bull?
Yo, Adrian!
What do you like most about yourself?
How I see things differently. And I'm able to immerse myself in all different kinds of crowds and talk to people from all walks of life.
What places in South Florida do you recommend to guests visiting from out-of-town?
Downtown Boca Raton, Las Olas, Ocean Drive, Sunny Isles, PGA, Palm Beach island … I told you there's always something to do and see!
If you could change one thing about yourself, what would it be?
There's nothing that comes to mind.
What do you consider your greatest achievement?
The greatest is yet to come.
Related Articles
Share
About Author
(0) Readers Comments