By Greg Carannante
City & Shore Magazine 
It was 25 years ago that advertising exec Jeff Friday left his first Sundance Film Festival dismayed by the dearth of Black people and Black content he saw there. He decided to do something about it.
Friday took a leap of faith. He left his job as film division president of a large ad agency, and in 1997 founded what is today recognized as the leading festival of its kind in the world and a cornerstone of diversity in Hollywood — the American Black Film Festival. The festival will celebrate its 26th anniversary with a flurry of live events in Miami Beach from June 15-19 and, in its first hybrid iteration, follow it up with virtual events on ABFF Play from June 20-30.
Issa Rae, star of the HBO series Insecure, is this year's festival ambassador. Her highly anticipated television series Rap Sh*t, which she created for HBO Max, will be part of the Saturday night lineup. Rae joins a list of former ambassadors that have included Regina Hall, Mary J. Blige, Idris Elba and Common.
Opening with the documentary "Civil," an intimate vérité look at the life of trail-blazing civil rights attorney Ben Crump, the features program includes narrative competitions, world premieres and first-time directors representing a diverse group of independent filmmakers from around the globe.
ABFF brings to South Florida Black culture enthusiasts, artists, executives and filmmakers from around the world. It has provided a platform for such then-emerging artists as Kevin Hart, Halle Berry, Kerry Washington, Anthony Anderson and Black Panther director Ryan Coogler. Opening with the debut of an upcoming Hollywood release, its robust lineup features studio and network previews, independent films, master classes, panels, celebrity talks, live entertainment, and, of course, the all-important networking and hospitality events.
Working with his wife, Nicole, the festival's president and general manager, CEO Friday expanded his entrepreneurial reach in 2019 with Jeff Friday Media, a Los Angeles-based entertainment company that produces film, TV and digital content as well as events focused on Black and Brown culture. Among them is the acclaimed feature doc Yusuf Hawkins: Storm Over Brooklyn, which Friday executive produced and which airs on HBO Max.
Friday, who lives in LA with his wife and two children, squeezed in a very brief intermission from producing the festival to respond to our Quote Unquote questions.
Aside from the weather, what do you enjoy most about South Florida?
Diversity of the people and culture.
Aside from the weather, what do you dislike most about South Florida?
The traffic.
Are you a beach person or a pool person?
Beach.
When in your life are you or have you been the happiest?
Now.
What do you do when you're stuck in a traffic jam on the interstate?
Conference calls.
What music are you listening to now?
'90s R&B.
Are you a fan, and if so, of what?
The iPad.
If you had to choose: Beatles or Stones?
Stones.
 What are your social media user names?
@Jeff Friday
 Apple or Android?
Apple.
 Who is your real-life hero?
My mother.
 If you had to choose: Rocky or Raging Bull?
Rocky.
 What car are you driving now?
Cadillac Escalade.
 What do you like most about yourself?
Trustworthiness.
What places in South Florida do you make a point to visit when you're in town?
Wynwood.
If you could change one thing about yourself, what would it be?
Be born wealthy.
What do you consider your greatest achievement?
Marrying my wife, fathering my children and running the American Black Film Festival.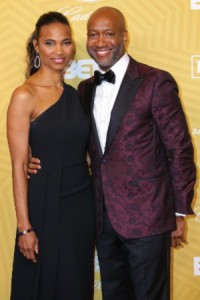 Nicole and Jeff Friday, courtesy
Main photo: Jeff Friday, courtesy
Related Articles
Share
About Author
(0) Readers Comments