By Eric Barton
City & Shore Magazine
Out there on your driveway right now – that thing you haul yourself to work in everyday and fill with potted plants for yard projects – chances are it's nothing special.
We're not judging. These days most of us drive cars that are temporary, leased for a couple of years or traded in when a new model beckons from an ad. You're almost certainly not entering your current ride in car shows or considering it an appreciating asset you'll pass down to the grandkids someday.
But what if you wanted to keep a car forever? Consider what you would buy to own for the next 30 years, staying current on the maintenance, watching the mileage, treasuring it like an heirloom. What car sold today will be the '57 Chevy of the era when we're all driving flying cars to the office?
There are two things to consider before picking a car you want to keep as a collector's item, says Rita Case, CEO of Rick Case Automotive Group and a collector of decidedly unique cars. The first factor is simply nostalgia, a hard-to-quantify feeling that's personal to you and won't necessarily affect the value of the car long-term. Buy a car today simply because it's projected to increase in value and you won't have that emotional attachment needed to see it every day for decades. But purchase something that stole your breath the first time you saw it roll by, that's the one to own, Case says.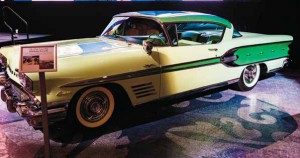 1958 Pontiac Bonneville, "The High School Ride," from the Case family collection. Courtesy
Over the years, Case has held onto cars that were personally special, things that aren't necessarily big-money collector's items today but that Case still likes to see. She's kept her late husband, Rick's, first car, for instance, a 1958 Chevy Bonneville. She also has a Honda N600 and the Z600, because Case's first job as a teenager was to sell them at her father's car dealership. "We collected cars that reminded us of our youth, and we collected cars that would be collectibles. But none of them were all that expensive when they were new," Case says. "We didn't collect anything because we thought, 'Oh, that's going to double.' We collected them because they were unique."
The second factor to consider before keeping a modern car is its rarity. Any car that's produced in mass numbers will likely not see values increase later. Instead, Case says to find the ones with limited production runs, like the new Maserati MC20, a superlight supercar with gullwing doors and a 630-horsepower engine borrowed from Formula 1 race cars. Case's dealership in Davie is one of the largest-volume Maserati dealerships in the country, but the Italian carmaker is producing so few MC20s that she's still only getting 20 of them to sell. That rarity is almost sure to make the Maserati increase in value in coming years, she says.
The rarity of that car is what sets it apart from modern-day cars that might be just as fast but are produced in big numbers. Consider all those SUVSs made by Mercedes and BMW with enough power to beat sports cars off the line, and yet their big production numbers mean they're worth less than a new Toyota Camry a few years after they've been purchased, says Larry McPherson, manager of the Dauer Museum of Classic Cars in Sunrise. Modern muscle cars – Mustangs, Camaros and Chargers, for instance – get churned out in too great of numbers to increase in value later on. Instead, McPherson says, look for rare versions like the Mustang GT500, Charger Hellcat and Camaro ZL1 that will likely be collector's items, if simply because they may be near the last of the big-engine cars of the gas-burning era.
Among the low-production cars that saw a big increase later on is the Ford GT, McPherson notes. Ford relaunched the GT in 2005 and sold it for about $130,000. Those models now sell for $400,000 and up. It's similar for the BMW Z8, a roadster that sold for similar money and now regularly tops out over $300,000.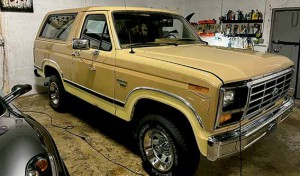 Another potential classic: 1984 Ford Bronco SUV, owned by Juan Pablo Verdiquio of Sunny Isles Beach. This Desert Tan Bronco was delivered new and remains all-original and unrestored. Photo by Russel Glace.
Cars were just a hobby for McPherson until he got laid off from an engineering company 25 years ago. He heard Dauer was looking for someone to run the place, and so he ended up with a second career in something he's passionate about. In his own garage, McPherson says he keeps cars for the nostalgia factor. He's got, for instance, a 2004 Mercury Marauder, which looks like just another undercover police car but with 18-inch rims, upgraded exhaust pipes peeking from under the bumper, and a 32-valve Cobra-made engine under the hood. "I've got it in the garage just as a fun car," McPherson says. "If it goes up, it goes up. If it doesn't, it doesn't."
For the first time this year, some of these modern-day classics will get their due later this month at the Boca Concours d'Elegance car show, which is adding categories for newer vehicles. The idea behind adding the new categories is to bring a newer, younger audience to the show, says Russel Glace, operations chairman and senior board member for the Boca Concours. The new categories include one for foreign tuner cars, which are newer vehicles that have been souped-up Fast & Furious style.
There's also a "future collectible" class, which will include cars made from 1976 to 1996. That section of the show includes some of those cars that you might not have imagined would become collectibles at the time: a 1984 Toyota Celica, a 1986 Buick LeSabre Grand National, and a 1993 Dodge Stealth.
As far as picking which modern car will become a classic tomorrow, Glace offers some simple advice. He's been into the classic car world his whole life and took over running the Boca Concours as a volunteer after retiring in 2015 from his job as an architect and design builder. What cars should people look for? "If you look at auctions, all two-seaters are usually collectible, especially compared to your regular family car," Glace says. One recently made car he expects will increase in value soon is the Audi TT, a two-seat convertible made in low numbers; now out of production, it'll likely only become more rare.
But even low-production convertible sports cars aren't guaranteed to become classics. The Jaguar F-Type, for instance, has had low reliability rankings and a difficulty distinguishing itself over rivals, and so even if it is one of the prettiest cars out there, its resale value isn't strong.
Predicting that future classic, Case says, can also be a bit like reading a crystal ball. "What cars do we see running down the road today that will be the next '57 Chevy convertible?" Case says. "I think it's going to be defined by its notoriety, how they are celebrated in the future."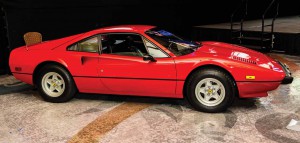 1979 Ferrari 308 GTB – a wedding gift – from the Case family collection. Courtesy.
IF YOU GO
Boca Concours d'Elegance
The 15th-annual Boca Concours returns Feb. 25-27 at The Boca Raton resort, with a Friday night VIP reception, a gala dinner Saturday, and a main event Sunday as judges pick winners in multiple categories. This year, the Boca Concours has added three categories to bring in a younger audience: newer vehicles produced from 1976 to 1996; foreign tuner cars made up to 1999; and a 30 Under 30 class, for people under 30 years old who spent less than $30,000 to restore donor cars manufactured up to 1999. The event will also feature the debut of 23 newly renovated classics, a record for the Boca Concours.
Related Articles
Share
About Author
(0) Readers Comments