By Mark Gauert
City & Shore Magazine
The light in The Light Between Oceans is not just between oceans.
It shines from search lanterns in dark forests of Australian melaleucas. It gleams from a fresh marble headstone in the old graveyard in town. It glows from the tiny windows of the lighthouse keeper's cottage on stormy Janus Rock, off the lonely coast of Western Australia. There's light against the darkest night from the stars above here, too.
Sunrise, sunset … swiftly move the days of lonely lighthouse keeper Tom Sherbourne, played by a towering Michael Fassbender.
There's light, too, in the camera-lens flare in screen-writer and director Derek Cianfrance's adaptation of the M.L. Stedman 2012 bestseller. I shouldn't say when, or where, the flares show up – that might spoil some of the plot; but let me just say that where some critics make light of directors (among them, a certain Star Trek reboot helmsmen) for excessive lens flare in their movies, Cianfrance uses it here – with some effect – to help tell the story.
This is, after all, a movie about finding The Light, however radiant, flickering or fleeting.
The one that lights the way to good choices in life. At least choices that keep things, well, light.
And it's all around here to see, most impressively from the lighthouse on Janus Rock, where Fassbender's Tom Sherbourne seeks a lonely exile far from the madding madness of World War I. Lonely, that is, until he meets Isabel – the daughter of a school headmaster in the mainland town of Partageuse, played with high-beam intensity by Alicia Vikander – who cuts Tom's darkness.
Tom and Isabel's first date – a picnic off Janus Rock – proceeds somewhere near light speed, and they are soon married, setting up cottage and trying to start a family. (With such frequency you have to wonder exactly who's minding the lighthouse up there on the white cliffs). Alas, despite many months on Janus Rock with little else to do besides, apparently, laundry, poor Tom and Isabel remain childless.
Moral dilemma arrives in a rowboat washed up practically at their dock step. Inside is a very lively baby, and the lifeless body of a man – presumably the child's father. Presumably, the father fled the mainland with his child for reasons we don't yet understand. Presumably, he did not see the lighthouse that might have saved his life. Presumably, the lighthouse light was on – although, given Tom and Isabel's distractions, who knows.
This must be reported, Tom says to Isabel, who has already taken the child into her arms and likely started a 529 College Savings Plan. It's his job, his duty, after all, as Lighthouse Keeper.
"Can't just be a coincidence that she showed up," Isabel tries.
"She's a lovely baby, but you can't keep her," Tom insists.
"She needs us," Isabel pleads. "We're not doing anything wrong."
Or are they? (Cue the camera-lens flares).
The rest of this engrossing, gorgeously photographed, well-acted tempest in a Tasmanian seapot considers the consequences of the decision they take. To say more – other than to say watch out for Rachel Weisz's stunning appearance among the tombstones in the aforementioned graveyard – would be to give away too much.
Let's just say there may be light between oceans here. But the way's not always clear.
Three stars (out of five)
The Light Between Oceans, written for the screen and directed by Derek Cianfrance, opens Sept. 2. Rated PG-13, 130 minutes.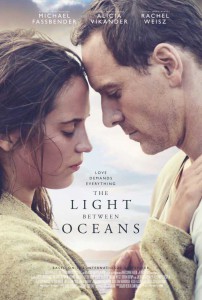 Related Articles
Share
About Author
(0) Readers Comments