By Eric Barton
City & Shore Magazine
Looking back now, four decades later, Joan Lamonica's not even sure how she came up with the idea, right there, on the spot, in the middle of a market in Ipanema. She asked the owners of a dress stand if they could make her something special, from an idea that just instantly came to her.
She picked it up a week later. It was strapless, with lace inserts, a double-handkerchief lace trim. She was smitten with it. "It was the first evening wear thing that I felt like me," she says. "I'm not very preppy, so it had a different look."
She was a flight attendant for Pan Am, and when she returned to New York City, friends wanted her dress. She asked the Brazilian dressmakers for more.
It wasn't long until her tiny New York City apartment was full of dresses. She began dyeing them herself in pots, hanging them to dry above the tub. She learned that, in white, her simple dress design worked perfectly for a beach wedding. In black, it became an elegant dress for a night out.
"I had no idea how amazing it was. It turns out there was nothing like it on the market."
When her mom came to town, she urged Lamonica to try to sell it beyond just her friends. Lamonica brought it to a department store, and she remembers buyers, right there in front of her, stripping off their clothes to try it on.
That dress she imagined in the Ipanema market helped launch her company, called Sara Mique, which is still putting out the same kind of simple-yet-elegant women's clothing all these years later. A decade ago she relocated to Florida and now has a retail operation-slash-dressmaking space at 4800 W. Hillsboro Blvd. in Coconut Creek.
The name of Lamonica's business comes from a pottery shop she ran on the side while working as a flight attendant. Sara Mique is a play on ceramic (say it quickly and it'll come to you), and she just kept the name when she converted the space into her first dressmaking shop.
In those early days, she had a Sears sewing machine, and she sat down one night to try to sew her own version of the dress. That first one, it took her 12 hours. She hired a seamstress to help, then another. She bought some lumber and made her own cutting table. She experimented with dyes and finally hired a salesperson, and, after years, someone who could make patterns.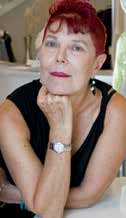 "Little by little, it was turning into a business," she says. "My business was never a huge business, but it was always a niche."
Back then, it wasn't like it is today, where stylists buy dresses for others. Instead, she'd hear stories about her dresses ending up on runways, like when she heard Natalie Wood wore one of her dresses to the Academy Awards. Stevie Nicks wore them regularly. And she says Vanna White got married in one.
Through the years, she saw many other dressmakers start and fail. Many of them had the same kind of vision she had back in Rio, but few also had the business acumen. She attributes it to a work ethic picked up when she was a kid back in Seattle, when she'd wake up at 4 a.m. to help her father prep at the family's coffee shop. "I think I saw the necessity that if you wanted to be successful, you had to work hard."
During the pandemic, when people weren't buying as many dresses, Lamonica tasked her employees to make masks, some that she'd sell and others that she'd donate. They worked on a new collection just in time for dress sales to return to what they once were, and now she ships matching masks with the dresses.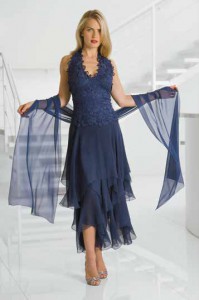 The company has seven full-time employees now, mainly making clothes sold to high-end retail shops across the country. Her location in Coconut Creek includes her first retail space, a true atelier, which is "an awful lot of work." All these years later, that initial dress Lamonica dreamed up in the Brazilian market is still part of her collection.
And four decades later, she has no plans for slowing down. The reason, she says: "I just still really love it."
Sara Mique, 4800 W. Hillsboro Blvd., Coconut Creek, 954-531-6800, saramique.com.
Main photo: Joan Lamonica, left, in her Pan Am days. (Courtesy).
Related Articles
Share
About Author
(0) Readers Comments