By Patti Roth
City & Shore HOME Issue
Whether you're redecorating an entire home or simply adding artwork to the family room, elevating your décor is delightful.
Decorator Show House events and home design expos – many live for the first time since the pandemic began – offer a wealth of fresh ideas. So do savvy design professionals.
Several of the pros looked forward to what's hot, what's unique and what's potentially perfect for your home.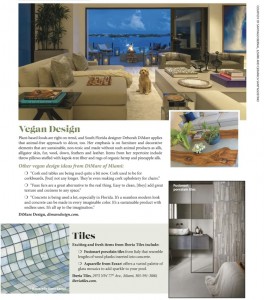 Vegan Design
Plant-based foods are right on trend, and South Florida designer Deborah DiMare applies that animal-free approach to décor, too. Her emphasis is on furniture and decorative elements that are sustainable, non-toxic and made without such animal products as silk, alligator skin, fur, wool, down, feathers and leather. Items from her repertoire include throw pillows stuffed with kapok-tree fiber and rugs of organic hemp and pineapple silk.
Other vegan design ideas from DiMare of Miami.
"Cork end tables are being used quite a bit now. Cork used to be for corkboards, [but] not any longer. They're even making cork upholstery for chairs."
"Faux furs are a great alternative to the real thing. Easy to clean, [they] add great texture and coziness to any space."
"Concrete is being used a lot, especially in Florida. It's a seamless modern look and concrete can be made in every imaginable color. It's a sustainable product with endless uses. It's all up to the imagination."
Main photo and this page: DiMare Design, dimaredesign.com.
Tiles
Exciting and fresh items from Iberia Tiles include:
FusionArt porcelain tiles from Italy that resemble lengths of wood planks inserted into concrete.
Aquarelle from Ezzari offers a varied palette of glass mosaics to add sparkle to your pool.
Iberia Tiles, 2975 NW 77th Ave., Doral, 305-591-3880, iberiatiles.com.
Kips Bay Decorator Show House Palm Beach, continuing through April 3 at 3001 Spruce Ave., West Palm Beach (a virtual tour is also available online), kipsbaydecoratorshowhouse.org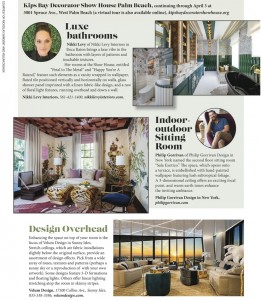 Luxe bathrooms
Nikki Levy of Nikki Levy Interiors in Boca Raton bring a luxe vibe to the bathroom with layers of patterns and touchable textures.
Her rooms at the Show House, entitled "Petal to The Metal" and "Happy You're A Round," feature such elements as a vanity wrapped in wallpaper, fluted tile positioned vertically and horizontally on walls, glass shower panel imprinted with a linen fabric-like design, and a row of floral light fixtures, running overhead and down a wall.
Nikki Levy Interiors, 561-421-1400, nikkilevyinterors.com.
Indoor-outdoor Sitting Room
Philip Gorrivan of Philip Gorrivan Design in New York named the second floor sitting room at the Show House "Sala Exotico." The space, which opens onto a terrace, is embellished with hand-painted wallpaper featuring lush subtropical foliage. A 3-D ceiling offers an exciting focal point, and warm earth tones enhance the inviting ambience.
Philip Gorrivan Design in New York, philipgorrivan.com.
Glass & Rugs
Decorative and functional glass fits perfectly with airy, sunlit Florida homes. Glass is well represented at the Wiener Museum of Decorative Arts, also known as WMODA, in Dania Beach. The WMODA shop features sculptural pieces from of a variety of Florida glass artists. Among the selection are Josh Fradis sculptures that look like they were plucked from the ocean.
From surf to turf.
WMODA's exhibits include colorful work by renowned glass artist Dale Chihuly. Juxtaposed with his glass are examples of rugs designed by Chihuly Studio for The Rug Company. Chihuly rugs, on loan at WMODA from The Rug Company, feature designs representing elements of his colorful glasswork.
Wiener Museum of Decorative Arts, 481 S. Federal Highway, Dania Beach, wmoda.com; The Rug Company, Design Center of The Americas (DCOTA), 1855 Griffin Road, Dania Beach, 305-576-9868, therugcompany.com. DCOTA showrooms work with design professionals and the public using with DCOTA Design Services.
***
Design Overhead  
Enhancing the space on top of your room is the focus of Velum Design in Sunny Isles.
Stretch ceilings, fabric installations slightly below the original surface, provide an assortment of design effects. Pick from a wide array of tones, textures and patterns (perhaps a sunny sky or matched with your own artwork). Some designs feature 3-D formations and floating lights. Others offer linear lighting stretching atop the room in skinny stripes.
Velum Design, 17100 Collins Ave., Sunny Isles, 833-338-3586, velumdesign.com.
Glass Walls
Glass feature walls, especially enhanced with backlighting, offer a wide array of opportunities for an exquisite design element, fully customizable with your favorite colors, design or image. Allied Kitchen and Bath, 616 W. Oakland Park Boulevard, Fort Lauderdale, 954-564-1611, alliedkitchenandbath.com.
Raise Your Bar
Quench your thirst in a visually enticing vignette that exudes your flair for design. This vibrant blue-glass bar is backed by a wall embellished with Crystallo quartzite.
Allied Kitchen and Bath, 616 W. Oakland Park Blvd., Fort Lauderdale, 954-564-1611, alliedkitchenandbath.com.
Related Articles
Share
About Author
(0) Readers Comments