By Mark Gauert
City & Shore Magazine
I wonder what people will make of this year.
"I like to think about what was going on the year the grapes were growing; how the sun was shining; if it rained," Maya says to Miles in Sideways, Alexander Payne's great movie of 2004. "I like how wine continues to evolve, like if I opened a bottle of wine today it would taste different than if I'd opened it on any other day.
"Because a bottle of wine is actually alive," she says. "It's constantly evolving and gaining complexity."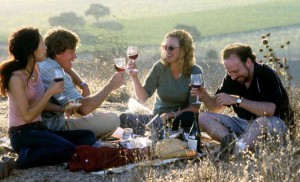 Sharing wine in Sideways. AP Photo/Twentieth Century Fox, Merie W. Wallace
We know what was going on this year while the grapes were growing for the wines of 2020. I wonder what we'll bottle up and taste in this vintage, years from now.
I wonder if people will even want to order a wine from the year of COVID-19. "The 2020?" I can hear them ask the sommelier. "Hmmm, got anything in the cellar from 2019? Or maybe, just to be on the safe side, 2018?"
The French often speak of the 1945 vintage – the legendary wines from grapes harvested the year of Liberation – with reverence. It was a bottle worth saving, for reasons beyond the taste of the wine, from a significant year.
I have bottles from my own significant years, too. The 1974 Haut-Médoc my dad brought when he visited me my senior year in college. (I felt so grown up). A 1985 Saint-Estèphe, the wine my wife and I shared at our wedding dinner in France. A bottle of Laurent-Perrier pink champagne sitting on my wine rack since my mother- and father-in-law brought it on a visit from France in 2017. We promised we wouldn't open it until they came back – which won't be any time soon, this sad year of travel restrictions to and from Europe.
I saved all these bottles over the years, thinking I'd open and drink them to remember good times. The older the wine, the better – right?
But when I told my father-in-law I still had a bottle from the wedding in France, he said, "helas, it's certainly passed by now. It's for your collection only, not to drink."
I asked around, and there's little debate about how long we can keep a wine before it goes over the edge. "Most whites and light reds, within two to three years," said Shari Gherman, president of South Florida's American Fine Wine Competition. "Bigger wines – Syrah, Cabernet Sauvignon, Bordeaux blends – seven to 10 years."
Which means if I opened my wedding wine from '85, it probably would not have evolved any of the complexity Maya promised Miles in Sideways. It might even have gone bad – not what you want for an anniversary toast. It would certainly taste different from the young wine I remember that Saturday in September, 35 years ago.
So here's to opening wines sooner than later. In good years … and bad. Maybe especially in bad.
I think about the good wine I opened this (arguably) bad year, before COVID-19 closed us down so tight we couldn't even open a bottle together in public. The 2016 Vérité La Muse – the wine that "comes strutting out of the glass" with a rare 100-point rating from The Wine Advocate – I shared in February with the genial winemakers themselves, Monique and Pierre Seillan, in a crowded dining room at Casa D'Angelo in Fort Lauderdale.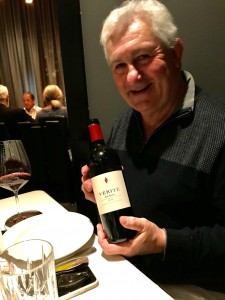 Vérité winemaker Pierre Seillan at Casa D'Angelo in Fort Lauderdale. Photo by Mark Gauert
"I think people spend too much time trying to describe the flavors of the wine they're drinking," I sputtered, struggling to find words to describe the extraordinary Muse in my glass.
"We like the smile on your face after you drink it,'' Monique laughed.  "You don't need to talk."
Maybe we don't.
I won't be saving any bottles from 2020 for my collection. No, not this vintage year.
But I'll remember the smile.
Related Articles
Share
About Author
(0) Readers Comments