By Mark Gauert
City & Shore Magazine
I'm trying to enjoy the show, about the good people of a small town in Newfoundland who sheltered thousands of airline passengers stranded after the Sept. 11 attacks.
I can't.
I can't because as good as the actors playing the good people are, as good as the sets and the music and the story, too, I can't help thinking I'd enjoy the show more with some subtitles on the rapid-fire Newfoundland accents. And maybe a snack from the kitchen, too. And possibly a beverage.
I fumble for the remote to put the subtitles on and pause the show so I can get a snack and a beverage, but I can't find it. I'm tapping the armrests now. Checking the crack between the cushion and the seat back. Reaching down to feel around by my feet …
Then, looking up without finding it, I wonder, why are all these people in my living room?
Because we are not in my living room. We're at the Broward Center for the Performing Arts for a live performance of the Broadway musical Come From Away.
Oh, right! We're at a live performance! Woo-hoo, at last!
But with no subtitles. No remote. No snack or beverage, either, except at intermission – if there's an intermission.
(Quickly check the program to see if Come From Away has an intermission. It does not!)
No mute, no pause, no snack, no beverage. How did we ever do live events before the pandemic?
Two years into it, I still catch myself like this, trying to remember the way we used to do things. (Like shake hands or wear something other than nominal loungewear or wait until after a show for a snack or a beverage or a bathroom break). And yet, how good it feels to be doing real things again. Like helping stranded passengers off a rock in the Atlantic.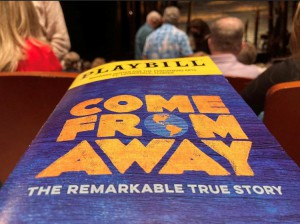 Come From Away at the Broward Center was one of the best shows I'd seen in my life. And not just because it was the first live show I'd seen in nearly two years.
But it's going to take a while to get used to live events again. Even after two shots and a booster. And possibly a beverage.
I tried to forget the pandemic and enjoy the Men of Style event last month at The Galleria Fort Lauderdale, where 12 good men (with little or no modeling experience) walked a fashion catwalk to raise money for local charities stranded when the pandemic shut down live fundraising. It's always been one of my favorite events – and not just because it's sponsored by City & Shore magazine.
But I felt rusty going to live public events again. Out of practice just ironing a shirt to wear out of the house. Not sure I even remembered the way things used to work off the couch, into a suit and surrounded by people I couldn't put subtitles on.
I don't think I was alone in that feeling. The shock of the old suddenly new again seemed to be troubling other people in the room, too. They'd see someone they knew from the before times, take a step to greet them in the new – then catch themselves.
Are we really doing this in person again? Do we shake? Do we not shake? Wave? Text? Zoom? What about hugs? Are we really hugging again? Are we sure we want to start hugging again? Even after two shots and a booster. And possibly a beverage.
The Men of Style at Galleria Fort Lauderdale last month was one of the best events I'd been to in my life. And not just because it was the first live event I'd been to in nearly two years. Or that I'd successfully ironed for it.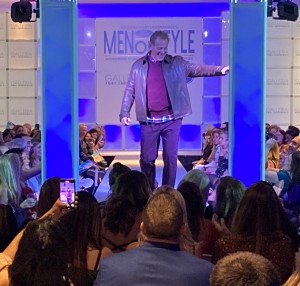 We will eventually get through this awkwardness. I know we will. We will shake off the rust and start ironing and go to places and events and see things – like the places, events and things we write about in this issue, https://bit.ly/3FotBLn – the way we used to. Maybe even better than we used to.
I wasn't so sure until I went aboard the Seashore, MSC Cruises' new 4,540-passenger ship now sailing seven-night Eastern and Western Caribbean and Bahamas cruises from Miami. Going on a cruise ship is probably the ultimate experience of the post-pandemic period. If you can make it there, you'll make it anywhere; but, let me just add, it's still not easy to do – at least compared to the old hop aboard days.
We had to go to extraordinary lengths to hop aboard the Seashore. Proof of vaccination. Temperature checks. A negative COVID test 72 hours before departure. Masks, masks, masks. (Except when eating and drinking, which, because it was a cruise ship, meant some of the time).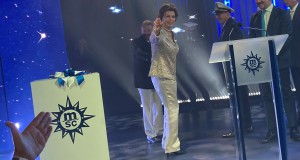 All of it worth it, though, to see 87-year-old Sophia Loren christen the stunning new ship live at MSC's private island in the Bahamas. If she's carefully braving this, I thought, so can I.
"Wishing serenity and happiness for all future passengers from all over the world," the Oscar-winning actress said, before cutting the ribbon. "May they share the beauty of the life and live unforgettable moments aboard this wonderful ship."
After she'd cut the ribbon, after a massive bottle of champagne had christened the hull, Loren turned and waved from the stage.
I was just paparazzi, but I thought she blew a kiss to me. From social distance, of course.
It was one of the best christenings I'd been to in my life. And not just because it was the first christening I'd been to in … well, you know.
Main photo: Sophia Loren waves to the crowd after christening the MSC Seashore. (By Mark Gauert)
Related Articles
Share
About Author
(0) Readers Comments