By Mark Gauert
City & Shore 20th Anniversary Issue
I was tired of the bugs.
Tired of them flitting around my head. Tired of slapping them away from my face and eyes and mouth. Tired of them coming at me from out of the dark like a swarm from a Mummy movie.
I was just tired, too, after 14 hours helping photographer Taimy Alvarez shoot a fashion story for the magazine almost 20 years ago at Vizcaya Museum & Gardens in Miami. The shoot had gone longer than expected – from dawn until well after dusk – and Taimy wanted to set up lights so we could keep shooting. There was no tomorrow, no coming back in the morning – we only had permission to shoot at Vizcaya for a day – and we still didn't have a photo we could use for the cover.
No cover, no magazine.
I may have been the editor of the magazine without a cover, but I was the light guy that day. My job was to stand near Taimy with a big round reflector to bounce light off the models she was photographing – the fashion photography industry equivalent of the person who plays tambourine in a band. Or maybe cowbell.
Now, for one reason or another, the shoot had run long and Taimy wanted to set up lights to keep shooting in the dark. And this being South Florida, the lights attracted bugs. Thousands of them.
Mostly to the light guy.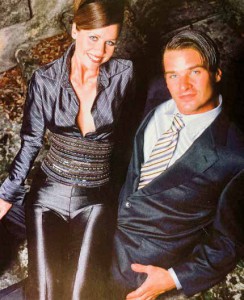 You'd never know it from the final photo of the two models above, reclining in sleek Carmen Marc Valvo Couture on a coquina staircase at Vizcaya, but there was a very tired light guy standing over them with a big round reflector, waving away a swarm of Mummy-caliber bugs attracted by the light so the models could appear bug-free, Taimy could get her shot and the editor could get a cover.
I remembered that as I paged through the 300 or so copies of City & Shore magazines from the past 20 years piled up on the floor of my quarantine office at home. To me, each one is a glossy yearbook of memories.
That time we talked Chris Evert onto the trampoline in her back-yard for another photo shoot in 2003. Broadcast legend Ted Koppel telling me our 2017 interview with him was one of the best he'd ever read. Supermodel-next-door Niki Taylor welcoming us to her country home near Nashville in 2006. Arranging a custom-made suit for Ricky Williams in 2003 because the Dolphins running back phenom didn't have one to wear for his cover shoot. Artist Peter Max autographing the cover he did for our fifth anniversary issue in 2006, "Love, Max." Laila Ali confiding in 2018 what she'd said to her father, Muhammad Ali, to ease his mind about her going into boxing. Cher agreeing to an interview in 2018 — but only in a chauffeured Suburban on her way some place else. (We said OK).
I could go on. And on. And on.
Each one of these issues brings back memories – not just of the people and (largely bug-free) places we've featured here in the pages of City & Shore, but the people who've worked to bring them to you. Writers, photographers, art directors, stylists, advertising sales staff, production staff, marketers, lighting guys. I may be the only one whose name has appeared in the masthead since the beginning, but they all share credit for bringing this magazine into its 20th year. (One more year, and we'll be able to toast that legally.)
I'm proud of the work they've done for our readers – and of the magazine and its many accomplishments – over the years. I could go on, and on, about that – and about City & Shore, too.
And we will, now that the bugs are out.
PHOTO: 20th Anniversary Issue work piled up on the floor of my quarantine office at home. 
RELATED:
"Turning tables on the editor of City & Shore," https://bit.ly/3sxhB52
"20 Years, 20 Covers: Editor's choice," https://bit.ly/39CDlUh
"Exactly 700 Words About First Words, the Editor's Letter," https://bit.ly/38QLrtu
Digital link to "The 20th Anniversary Issue,"  https://bit.ly/3bK2EGL
Related Articles
Share
About Author
(0) Readers Comments