By Mark Gauert
City & Shore Magazine
In the room the women come and go, talking of … I don't know. At least not at first.
"Did you see what's in the case over there?" one of the women says, pointing to six 1,500-year-old ceramic figures behind glass at "Machu Picchu and the Golden Empires of Peru," the blockbuster exhibition now through March 6 at the Boca Raton Museum of Art.
"Uh," another says. "What are they doing …?"
"Look closer," the first says.
"Oh!" the other says. "Are they …?"
"Yes," the first says. "I'm pretty sure they are."
We look for confirmation "they are" in the words of the museum labels above and below the showcases. The room is already full of objects that confirm the ancient Incas liked decorating their ceremonial spaces with macaw feathers, and wearing pins of beaten gold shaped like hummingbirds and revering big cats, such as jaguars and pumas.
And, apparently, some other things the Incas liked as well.
"The ancestors," the museum labels confirm about the six figures in the showcase, "also participated in intimate acts."
"They sure did," the first woman says.
"I guess so," the other says.
The six figures in various positions and acts rendered in meticulous, borderline NC-17 detail, confirm the ancient Incas were busy with a lot more than just building Machu Picchu, one of the engineering wonders of the world.
So busy, you wonder how they also found the time – and energy – to haul all those stones around, 7,972 feet high in the Peruvian Andes. Or if they might even have had a particular interest in choosing a site at the base of a mountain shaped vaguely like a shape I'm not sure I can talk about in a family newspaper magazine.
(Checking that…No.)
"Sexual representations in pre-Columbian art are connected to rituals of fertility, sacrifice and ancestor worship,"  the official guidebook of the exhibition says. "[They] are a very important source of information to understand the world view of the societies of ancient Peru."
Which is fine – I am down with world understanding! – but I wondered if the room might have benefited from a small preview of coming attractions. Just a word or two to the gentle viewer, right after the G-rated big-screen movie you see before stepping into the next room of the exhibition, that there are some 1,500-year-old ceramic figures ahead with an NC-17 level of understanding about the world view of the ancient Peruvians.
"In our first six days of the exhibition we have had no comments/concerns regarding these objects," says Irvin Lippman, the museum's executive director. Nonetheless, he adds, a sign advising "viewer discretion" has gone up at the entry of the gallery.
"It is an important part of the Andean culture," Lippman says. "Dr. Michael Harswell, Dean of the Art and Humanities at FAU, did his dissertation on the subject of these objects. The topic will be included in a symposium at FAU on Saturday, Jan. 22. [Info on the  website https://bocamuseum.org/art/machu-picchu-and-golden-empires-peru]."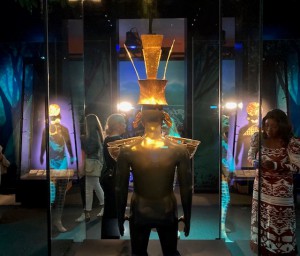 Golden ornaments at the exhibition (photographed by Mark Gauert)
It wouldn't be the first time we've had our world views rocked. "Machu Picchu and the Golden Empires of Peru" is just the latest big show in a string of big shows we've gotten used to getting in South Florida in December. The Museum of Art Fort Lauderdale may have kicked it off 16 Decembers ago with "Tutankhamun and the Golden Age of the Pharaohs." (I don't remember anything rating more than a G among the 130 artifacts at that exhibition, which went on to break attendance and profit records.)
Three years ago, Gareth Neame, executive producer of Downton Abbey, helped us understand the strait-laced world of Edwardian England at "Downton Abbey: The Exhibition," at CityPlace in West Palm Beach. (I don't remember anything particularly un-strait-laced about that one, either, unless you count a holographic butler, handmade costumes and napkins folded just right.)
Of course if you'd rather not get complete-to-possibly-too-much understanding of the Incas, there's "Frida Kahlo, Diego Rivera and Mexican Modernism," another big show through Feb. 6 at the Norton Museum of Art in West Palm Beach. That's a pretty G-rated show, too – unless you start reading too much into the monkeys in Kahlo's self-portrait. (Checking to see to see if I can talk about that…No.)
This is a gift issue, full of ideas for great gift-giving. And these blockbuster shows, timed to coincide with the holiday and tourist seasons, are gifts we can give to ourselves, too.
It's nice to hear Lippman say the objects have rated no concerns, no comments, no objections. It may show how we've matured as a museum-going public, and how open we are to new ideas.
Our world views could probably use a good rocking now and then, or at least every December or so. "Machu Picchu and the Golden Empires of Peru" is an astonishingly good gift for that – at turns beautiful, fun, instructive and, yes, a little racy.
You'll know it when you see it.
Related Articles
Share
About Author
(0) Readers Comments