By Mark Gauert
City & Shore Magazine
All I wanted a year ago was a Lamborghini. You know, a simple gift.
Oh, sure, a trip to Little Palm Island in the Florida Keys would have been a nice fallback. Or a table at The Bazaar in Miami Beach for Chef José Andrés' "Ultimate Tasting Menu."
OK, the $38 million penthouse on the 47th floor of The Mansions at Acqualina in Sunny Isles Beach would have been a thoughtful gift, too. Extravagantly thoughtful, even.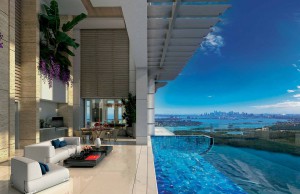 The view from the penthouse atop The Mansions at Acqualina in Sunny Isles Beach. (Rendering/Courtesy) 
But there was nothing else on my wish list a year ago! No, no, no. THAT was it for me, thank you!
(Unless they were out of Balloon White Lamborghinis at the dealership. Which, I know now, happens a lot when shopping on Instacart. In which case, a Blue Hera Lamborghini would have been an acceptable substitution. Barely.)
But I digress.
It was, after all, just a wish list a year ago. I wasn't expecting anyone to actually, you know, act on it. I really wasn't expecting to open a giant gift box and watch a Balloon White (or Blue Hera, if absolutely necessary) Lamborghini purr out. Or a deckhand step out and pass me a Gumby Slumber (pineapple, cranberry and orange juices and 100-proof rum) for the boat ride to Little Palm Island. Or even spear me a Smoked Oyster from Chef José Andrés' menu – although, really, that would have been the least anyone could have done for me a year ago and still rated a "thoughtful."
No, no. No.
(Unless, I suppose, someone really wanted to give me any or all those things. Then I would have been grateful. And possibly 47 stories high. And 0-60 in 2.9 seconds fast. And full of smoky oysters.)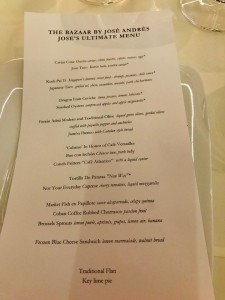 But I'm here to say my wish list a year later has changed. Actually, it's been changing since March.
Because back then, I would have traded a Lambo (in any shade) for a 30-roll pack of Kirkland Signature Bath Tissue (2-ply, 425 sheets). You know, an impossible gift.
Oh, sure, a trip anywhere beyond the end of my driveway would have been nice, too. Or a table set with something other than whatever mistake Instacart sent over instead of what I'd ordered.
"I said ginger, Instacart – NOT ginger ale!"
"Thank you, Mark, for your order of kale."
Checking to see if there's any rum left. (There is. Barely).
We may never truly figure out Instacart, but we've learned so much about gifts this past year. And about gratitude.
For health-care workers and first responders who've put their lives at risk to help others. For volunteers helping distribute food and other essentials to the hungry and suddenly jobless. For a community pulling together through difficult days we couldn't have imagined when we put together our gift lists a year ago.
All great gifts given selflessly to all of us this year, in the spirit of kindness. We have thank-you notes to write.
So as we flip through catalogs of simpler gift ideas – all of them, like City & Shore magazine's annual gift guide, https://bit.ly/39qi81w, certifiably capable of taking our minds off the COVID-19 year we've had – let's not forget how a wish list can change from one year to the next.
Or what's truly a gift.
 – mgauert@cityandshore.com.
Related Articles
Share
About Author
(0) Readers Comments