By Mark Gauert
City & Shore Magazine
"You know," the salesman said, watching me on the other side of the shoe-fitting stool, "you're tying your shoes wrong."
I was at the running store, lacing up a new pair of Asics Gel-Nimbus 23s. Not the sleekest shoe on the shelf, but stuffed with all the FlyteFoam cushioning a "master" runner – or editor of PRIME magazine – could want.
"I'm tying my shoes … wrong?" I said.
"All wrong," he said.
I stopped tying my left shoe, taken aback by this news. How could that be possible? I don't mean to brag, but I've been tying my own shoes since I was 4 years old. Maybe even 3.
It had always felt right, the way I'd tied my shoes.
"What am I doing wrong?" I said, looking down at what appeared to be a perfect bow on my right Gel-Nimbus. "I've been tying shoes this way for almost 60 years."
"I don't know what to tell you," he said. "Where did you learn to tie your shoes?"
"At school, I guess – or maybe my mother?" I said, fumbling to remember. "She showed me how, you know, the lace bunny runs around the tree, jumps into the hole, pops back up, makes another loop, and …"
"And your laces come undone all the time," he said. "Don't they?"
"Well," I said, shifting uncomfortably on my side of the shoe-fitting stool.
There was that time in the Walt Disney World Marathon, when my laces loosened up around mile 15 and I had to stop and retie. I estimate that little pit stop added at least a minute to my overall time, which likely meant I had to settle for 6,202nd out of the 13,000 runners that day instead of 6,002nd. https://bit.ly/34Yg5C2
Then there was the time I met Bryan Cranston – noted Emmy, Tony and Screen Actors Guild award-winning actor and star of my favorite TV series, Breaking Bad – and the first thing he said to me was, "careful, your shoelace is untied." It was, and by the time I bent down to tie it and looked up again he had broken away to talk with somebody else.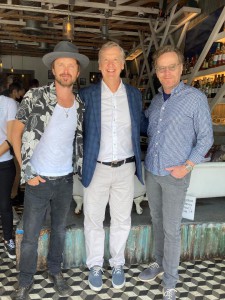 Looking back, I started remembering a lot of people – often passing strangers – telling me my shoes were untied. At airports, on city streets, on escalators, at weddings, at my wedding, at the birth of our children, at school events where our children with perfectly tied shoes smirked at my dragging laces.
"Dad!" my youngest son said. "You're going to trip and fall!"
And this was just last week. He's 28 years old now. (And still ties a fine shoe.)
Maybe the running-shoe salesman … was right? Maybe I didn't know how to do something so basic as tie my own shoes? Maybe I needed to learn something I took for granted I already knew. At least since I was 4. Maybe even 3.
"OK," I said, "what am I doing wrong?"
He untied my right shoe and stretched the laces tight.
"Like this," he said, deftly increasing the number of times the bunny runs around the tree from one to three times before popping up to make the loop.
"See?" he said, as the bunny came up a third time, "it holds the laces tight, and you don't even have to hold your finger there to tie the bow."
He was right. I tried to loosen it, but it wouldn't budge!
Astonishing! I'd been tying my shoes wrong all these years. (I'm not telling my mother.)
You might think this is a story about how we're never too old to learn something new. PRIME, after all, is a magazine full of knowledge and wisdom, earned honestly through expertise and experience.
But it's also a story about the value of questioning things you've always thought were true, at any age. And being open to the possibility there might be a better way.
I thought about that as I kicked off on a run in my new Asics Gel-Nimbus 23s. I was down the street and back before I even noticed I hadn't had to stop to retie them this time.
It felt right.
Related Articles
Share
About Author
(0) Readers Comments