By Greg Carannante
City & Shore 20th Anniversary Issue
It's no secret the past 20 years have been a time of great change for newspapers and magazines. Though often for the better, City & Shore has changed as well. One thing that has not changed, however, is its editor.
Since its inception, Mark Gauert has been the magazine's one constant, its driving force, its conscience and a good bit of its personality. As such, it was a no-brainer to me that he'd be the most appropriate Quote Unquote interview for the 20th anniversary issue. He didn't agree. Significant arm-twisting ensued.
Regular readers have already gotten to know Gauert a bit through his always poignant, perennially award-winning "First Words" editor's letter, which typically convey his good-natured sense of humor, savoir faire and just plain decency. I could go on in great detail about this last characteristic, having known and worked closely with him since well before City & Shore. I'm sure you'd never get to read it, though. He'd edit it all out. It would be the decent thing to do.
So, we'll just move on to his South Florida newspaper career, which began at the Hollywood Sun-Tattler in 1982 – his first job after his master's in journalism from the University of Kansas – where he was a reporter, assistant city editor, features editor and eventually columnist. He arrived at the Sun Sentinel eight years later, and not long afterward became its Lifestyle editor and then editor of its Sunday magazine, Sunshine. Then City & Shore came along and Gauert was charged with creating one of the first glossy lifestyle magazines to be published by a newspaper. Twenty years is a pretty good indication of how he did.
For a time, he even served as publisher-editor, a rare dual role for a publication of this kind. Through it all, he's coalesced a small staff and a roster of contributors into a magazine that's not only grown its readership but won more than a hundred state, regional and national awards over two decades.
Gauert and his wife, Cecile, also a magazine editor, live in Cooper City – where they live next door to the house they lived in when they got married 35 years ago. They have two grown sons.
Q. Aside from the weather, what do you enjoy most about life in South Florida?
A. I didn't think I could live here when I got off the plane from my home in New Mexico in 1982. Too wet, too flat, too many molds, mildews and mushrooms – including some growing on my ceiling! I got used to it – I think the longer we live in a place, the more we adapt to its climate. I can go three, maybe four minutes outdoors now without even breaking a sweat. Wait, what was the question? Oh, yes. If I were ever to leave South Florida, I'd miss the sky. Sunrises and sunsets, sure – but also all the towering summer storms. They are our mountains. (In Deep, https://bit.ly/3heJTvV)
Q. Aside from the weather, what do you dislike most about life in South Florida?
A. Mushrooms on my ceiling.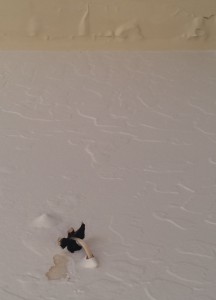 PHOTO: More details on the mushrooms in question from "Hard to Keep a House Beautiful Here," https://bit.ly/38xHyYO
Q. Are you a beach person or a pool person?
A. I never want to go to the beach – then, when I finally get talked into going to the beach, I never want to leave. That doesn't happen when I go to the pool. So, beach person, I guess. (But I still don't want to go.)
Q. When in your life are you or have you been the happiest?
A. I can't pick one – I've been happy since childhood. (Is that allowed?) I'm even happy answering this question. I'm moving on now to the next question, which will probably make me even happier.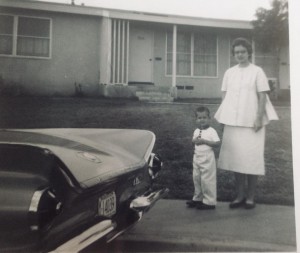 PHOTO: With my mom (and sister to be) on base housing in San Diego, from "The Good From Bad Hair Days," https://bit.ly/2WJcdNr
Q. What do you do when you're stuck in a traffic jam on I-95?
A. I think about places with worse traffic. Paris, for example. Everybody stuck in traffic on Interstate 95 is daydreaming of Paris. Everybody stuck in traffic in Paris is daydreaming of I-95.
Q. What music are you listening to now?
A. Whatever Siri selects for me from a playlist that includes Fryderyk Chopin, Blues Traveler, Dave Brubeck, Stan Getz, Buena Vista Social Club, Drake, Ella Fitzgerald, The Rolling Stones, Fatoumata Diawara, Leonard Cohen, Jane Birkin, Gary Clark Jr., Bob Dylan, Jackson Browne, Miles Davis, AC/DC … I'm sure I'm forgetting someone.
Q. Are you a fan, and if so, of what?
A. Chess. I know, I know – you're thinking, oh, he just watched The Queen's Gambit and he's trying to be trendy. Hey, I was an un-trendy fan of chess when Anya Taylor-Joy was playing Candy Land! I've always got a game going now, thanks to the Internet, with people all over the world.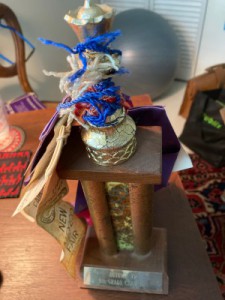 PHOTO: My Ninth Grade Chess Champion Trophy, a full 24 years before Anya Taylor-Joy was born).
Q. If you had to choose: Beatles or Stones?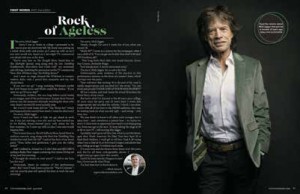 PHOTO: My full apology to Mick Jagger, https://bit.ly/3hf2YOk).
A. I once won $25 – and "Worst Act" – in a dorm talent competition for my performance as Mick Jagger singing Slim Whitman songs. Because the lawsuits are still pending, I'm going to say Beatles.
Q. What are your social media handles?
A. @CityAndShore on Twitter; @cityandshore_magazine and @mark_gauert on Instagram.
Q. Apple or Android?
A. Apple. Assuming we're talking about fruit.
Q. Who is your real-life hero or heroine?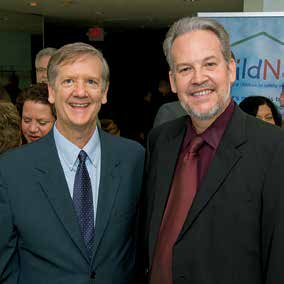 PHOTO: With Joe Rogers, from "The Difference a Dad Can Make," https://bit.ly/3nLi8xm)
A. Anyone who fosters or adopts a child. Joe Rogers, for example, who raised four children then adopted three more at age 53. Chris and Nicole Rodriguez, for example, who adopted four children after fostering 12 and providing respite care for three. I met them – and many more real-life hero and heroines – through ChildNet, a bright light in our community. I've written about them, and others. Thank you, for all you do for our future.
Q. What car are you driving now?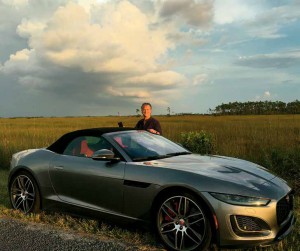 PHOTO: From "A Jaguar for All Seasons – Even Mosquito," https://bit.ly/3hhZgn5. Photo by Cecile Gauert)
A. An Eiger Grey 2021 Jaguar F-TYPE convertible. But only because I'm reviewing it for the magazine. My ride turns back into a 2016 Prius at midnight.
Q. If you had to choose: Rocky or Raging Bull?
A. Raging Bull. However, I'm not sure how I would have answered this question if Rocky had been made in black and white.
Q. What do you like most about yourself?
A. The keen ability to spot an opportunity to move on to the next question.
Q. What places in South Florida do you recommend to guests visiting from out-of-town?
A. Any place that reminds them of wherever they came from. Someone from Cincinnati, for example, should try the Skyline Chili in Sunrise. From France? Croissan'Time in Fort Lauderdale. The Alps? Vista View Park in Davie. Then I sit back and enjoy them talking about how much better it is here than wherever they just came from. Especially New Yorkers. New Yorkers always think it's better here!
Q. If you could change one thing about yourself, what would it be?
A. Wanting to go back and change answers I just made to something else. I wish I could get it right the first time! (Like, I left Lizzo off my list of what I'm listening to! What was I thinking?!)
Q. What do you consider your greatest achievement?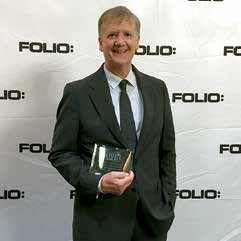 A. The awards for work in City & Shore over the past 20 years have been fine moments. But our sons, Spencer and Colin, are the greatest. (I don't know how they turned out so good while I was distracted by work. It was all Cecile's doing.) I know that sounds like something a dad and husband might say. Maybe I got that one right the first time.
Related Articles
Share
About Author
(0) Readers Comments