By Mark Gauert
City & Shore Magazine
Uber wouldn't let me book the ride to Miami Beach until I confirmed that I would be wearing a mask. I was.
I went through the rest of the check list I'd been using before going anywhere these past 16 months, too. N95 mask? Check. Sterile alcohol wipes? Check. Hand sanitizer, rubber gloves, face shield? Check, check, check. (At least if you count sunglasses as a face shield, which I do.)
I tried not to talk much with the Uber driver on the way down to Stiltsville Fish Bar, either; but we were in South Florida traffic, and there was so much to talk – sometimes shout – about.
"Can you BELIEVE this guy!?" he said, jamming the brakes as another driver cut in front of us.
I could not – but I didn't want to say so and risk airborne spread.
At the restaurant, https://stiltsvillefishbar.com, a sign taped to the front door – the velvet rope of the coronavirus era – indicated I was not going to get in unless I was wearing a mask. I was.
But inside, it quickly became clear I was the only one. Everybody's face – except the restaurant staff – was uncovered and, something I hadn't seen much in public in 16 months, smiling. Including the two famous faces at the bar.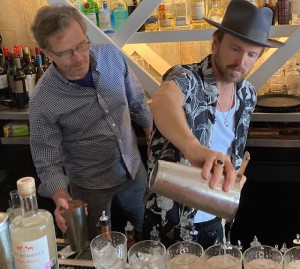 Bryan Cranston and Aaron Paul – who played meth producers Walter White and Jesse Pinkman in the mega-hit Breaking Bad – were in town for the South Beach Wine & Food Festival, and they'd invited me to try their latest product, a smoky mezcal tequila called Dos Hombres, https://www.doshombres.com/. I weighed the risk of unsocial distancing with the reward of having arguably the two most famous mixologists in the world make me a drink.
And I took off my mask – in public – for the first time in 16 months.
Full disclosure, I've been vaccinated. Both rounds, thank you. I still wash my hands obsessively. I often burn all of my clothing after going out anywhere. Sometimes twice.
But, after 16 months of quarantines, Zoom meetings and binge-watching Cranston and Paul in Breaking Bad and El Camino and, I don't know, Bojack Horseman, until I was bug-eyed, I was ready to weigh a few risks vs. rewards.
And it was rewarding, to see everybody's face again. So good to see so many smiles that had been covered for so long and – by the look of things to do in this Summer Issue – we'll be seeing a lot more of soon.
Still, it was so strange to be sitting next to Bryan Cranston in person instead of seeing him in pixels on TV.
We talked in considerably less than social distance about the fine mezcal he and Paul have produced near Oaxaca, Mexico since 2019. How they're hands-on in the production – even learning to take a drop and let it dry on your hands so you can smell the aromas of the agave mash as it evaporates.
I didn't know that. Or that Cranston owes Florida for getting his acting career started, when he was 21 years old.
"I was riding my motorcycle across country in the 1970s, looking for work where I could find it," he said. "I stopped in Daytona Beach and, for a while, sold suntan lotion.
"One day, I stopped by the community theater and asked if they needed someone to sweep up, or some other chore, and they said, 'No, but have you ever acted?' I hadn't, but I said yes."
They cast Bryan Cranston – who would go on to win Tonys, Emmys and Screen Actors Guild Awards – in the Daytona Playhouse production of The King and I that day.
So, I asked, Walter White wasn't the first time he'd had to shave his head for a role?
"No, no," he smiled. "I wasn't playing the king. I played Kralahome, the king's right-hand man."
He got good reviews, caught the acting bug – and eventually, after a few breaks for fun to Fort Lauderdale, left Florida for acting classes in Los Angeles. Which eventually led to Seinfeld, Malcolm in the Middle, Breaking Bad, El Camino, All the Way on Broadway (and the TV movie), Godzilla, Power Rangers, Your Honor …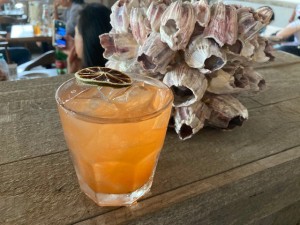 And now back to Florida, where he and his friend and business partner, Paul, shook up a mean Smokey Rose, above, (Dos Hombres Mezcal, fresh grapefruit and lime juice, rosemary and simple syrup). So good, I was happy to have a ride home.
Uber wouldn't let me book it until I confirmed that I'd be wearing a mask again. Reluctantly, after such rare moments out in the world, I was.
But I could tell that we're getting closer now. Close to breaking better.
PHOTOS: Bryan Cranston and Aaron Paul, above, behind the bar at Stiltsville Fish Bar in Miami Beach; and below with Mark Gauert. (Mark Gauert/courtesy)
Related Articles
Share
About Author
(0) Readers Comments