By Mark Gauert
City & Shore Magazine
It seems so long ago now.
You got hungry, stopped by a restaurant for a burger or grilled chicken sandwich or little plates of hummus, tabbouleh and baba ghanoush for lunch. Or you stopped somewhere for dinner and sat down to maple-rubbed salmon or broccoli rabe & sausage orecchiette or a smoky platter of BBQ baby back ribs.
It was simple, satisfying – and seems so long ago now. (Was it really just, March?)
As we know, nothing is simple anymore. Going to a restaurant requires a set of logistical questions beyond whether you're just hungry. Do they space the other diners out? Do they follow COVID-19 cleaning protocols? Do other people in the dining room wear masks, or will they get into fights if some of them aren't? And do we really want to find out when all we really wanted was some baba ghanoush in a COVID-19 protocol clean, well-lighted space?
Some chefs understand we hunger for the restaurant experience we had before (read, March) without all the current logistical questions – not to mention potential confrontations – and they're busy retooling their kitchens to deliver or take out restaurant-quality meals ready to finish at home. To which, I say, bring it on (home).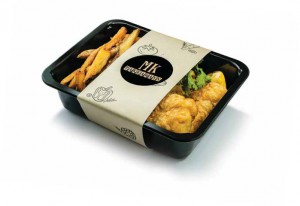 "We're trying to change people's perception of what a takeaway meal is," Michael Stanley, who with his wife, Karen, co-owns MK Takeaways, a 25,000-square-foot prepared meal kitchen in Sunrise, told the Sun Sentinel last month. "Like, how do you get restaurant-quality food, but at home? We're trying to convince customers that this food is delivered much, much better than cold takeout, and tastes like home cooking."
How close to home cooking? Close enough, I'd say, based on a sample delivered direct to the door in insulated ready-to-microwave or heat containers. (Even with some assembly and a working oven and microwave required at home.)
Among MK Takeaways highlights:
Starters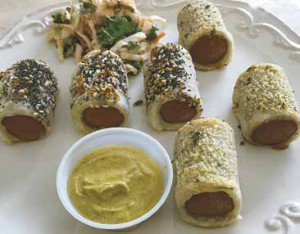 Li'l Kosher Dogs: Remember the scene in Ratatouille, when fearsome food critic Anton Ego is transported back to childhood and his mother's kitchen with a single taste of the chef's signature dish? One bite of these little dogs out of the oven, wrapped in puff pastry, and I was transported to childhood memories of ballparks in the Midwest. Home run.
Mediterranean Salad: One bite of the fresh hummus, tabbouleh, baba ghanoush, marinated olives, feta and artichoke salad, spicy carrots & jalapenos, cucumber tomato salad, roasted cauliflower salad, Greek salad with feta and toasted-seasoned chickpea, and I was transported to adult memories of dancing atop tables at Greek restaurants. (Long story). Opa!
Sandwiches
Bayou Chicken Sandwich: The bun and lettuce leaf did not travel well (a bit stiff and wilted, respectively, and I would have sent it back if this had been a restaurant in The Before Times) but the chicken patty brought back happy taste memories of lunches out.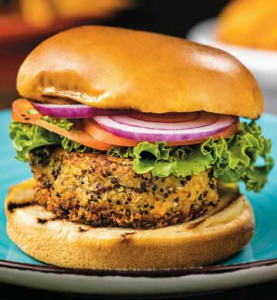 Quinoa Burger: The patty was tasty – but the bun did not travel well again (a bit stiff again, too, although the lettuce was crisper). The disappointing bun was a surprise because I know MK Takeaway can make bread. The pointy-ended baguette they sent – soft on the inside, thunking crisp out – was among the best I've had in South Florida.
Entrées
Blackened Grilled Shrimp: While the shrimp were over salted (a common restaurant complaint), the pasta with creamy Cajun alfredo sauce was decadently good comfort food.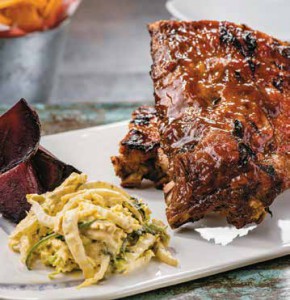 BBQ Baby Back Ribs: I wanted these ribs served with roasted beets and kale apple slaw to transport me to childhood memories of Kansas City. They got me about as far as Memphis – still good, and a solid halfway to K.C. A solid double.
Dessert
Vanilla Bean Panacotta: If I weren't trying to avoid the COVID-10 (pounds of added weight), I would have also tried the Dulce de Leche Pot de Crème, Sea Salt Brownies and/or Seasonal Fruit Tart on the menu. Fortunately (for my caloric intake) the Panacotta, served in a screw-top jar with plump blackberries as big as dates, was a show (and dessert)-stopping delight. Yes, you can have your restaurant-quality panacotta and eat it at home, too.
MK Takeaways, 12691 W. Sunrise Blvd., Sunrise, 954-669-1366, MKtakeaways.com. Prepared meals range from $7-$17 for salads and soups, $14-$26 for entrées.
PHOTOS All courtesy of MK Takeaways, except for the Lil Kosher Dogs, photographed by Mark Gauert
Related Articles
Share
About Author
(0) Readers Comments