Editor's note: Burn Notice, the spy caper now in its seventh season, will air its finale 9 p.m. on Sept. 12. We first profiled the USA Network series in the July/August 2010 issue – featuring co-star Gabrielle Anwar on the cover – as part of a story on made-in-South-Florida TV series. We revisit the story here, which included an interview with the series' creator, Matt Nix.  
By Elizabeth Rahe
When a decapitated woman turns up in a muddy creek in the fictional town of Palm Glade, it signals the beginning of Jim Longworth's homicide investigation career in Florida. It also marks the premiere of The Glades, an A&E series about Longworth, a Chicago cop who moves to the Sunshine State for sunshine and golf, but finds beaucoup murders – at least one per episode – to keep him off the links. The show is filmed at locations
in South Florida and in a studio created in a former Pembroke Park carpet warehouse.
It's the second Fox Television Studios series being shot in South Florida. USA Network's Burn Notice (Thursdays, 9 p.m.), cable TV's highly ranked drama about the adventures of a discredited spy, is based in the old Coconut Grove Expo Center. Not since Miami Vice in the '80s has a successful scripted series been shot here. (Some productions, including CSI Miami and Dexter, use South Florida scenic shots but are primarily filmed in Southern California.)
Spurred by the area's film-friendly environment and state incentives, the productions are bringing the real South Florida into focus on the small screen.
***
Burn Notice creator Matt Nix originally set his story in Newark, N.J., but USA Network convinced him to go for a blue-sky setting, like Miami. Resistant at first, Nix realized four pages into the script that down-and-out spy Michael Westen formed a contrast with the sunny setting. What brought the production to South Florida instead of, say, Southern California, was the state incentive program, which  rewards producers for spending money in Florida.
"The fact that we ended up in Miami, shooting Miami for Miami, had everything to do with the incentives," he says.
It has turned out to be a fortuitous locale.
Burn Notice is consistently ranked among the top cable shows. This season's opener [2010], which had Westen dodging bullets in a South American jungle, scored 6.62 million viewers. (The jungle, by the way, was
Miami's Monkey Jungle). From South Beach hotels to Coral Gables bungalows, industrial plants to marinas, South Florida has provided a rich source of settings for Nix and his team of writers.
"We can write anything and we will find some version of it in the area," Nix says, adding that South Florida is very production-friendly. "The fact that Miami is willing to let us blow up all the stuff we blow up and crash all those cars, and there are designated places to do that – that's really awesome."
Bruce Campbell, who plays Westen's right-hand man, Sam Axe, calls South Florida a collision of cultures, which makes it a perfect setting for Burn Notice plots.
"We have weird characters from all over the world on the show – like a Russian operative from the '80s, Chechen rebels, Mexican bad guys. The show wouldn't work in Des Moines, Iowa."
Axe and the gun-toting, former IRA operative Fiona Glenanne (Gabrielle Anwar), help Westen (Jeffrey Donovan) attempt to unravel why he was burned – or blacklisted – as they help average citizens solve problems via spycraft. This season adds Coby Bell as fellow burned spy Jesse Garcia. Sharon Gless of Cagney & Lacey fame plays Westen's manipulative but loving mother, Madeline.
Her scenes are often shot in the air-conditioned Coconut Grove studio, home to Madeline's bungalow and Michael's loft, but much of the show is produced on location, which presents some unique situations. For last season's finale, for instance, a scene had to be rewritten because the speeding boat would violate a canal's manatee protection zone. Then there's the heat.
"When you're standing on a rooftop in Fort Lauderdale surrounded by flaming helicopter parts, and it's 110 degrees and 100 percent humidity, and all of your leads are wearing suits, it looks good, but it's a challenge from that perspective," Nix says.
The veteran crew is always up for the challenges, he says.
"Because I got this crew that has done everything that has come through Miami, they're pitching me ideas. They know how to do all the stunts they did on Bad Boys."
Campbell calls the crew an eclectic weirdo family – "the kind you'd find at a family reunion: 'Oh there's Uncle Joe…He takes naps under the sycamore tree at 2 o'clock.' These people are really tight, an incredibly hard-working crew."
For Nix, another advantage to working in South Florida is the abundance of café Cubano. "I'm a total coffee addict," he says. "In Miami really good espresso is not a luxury; it's a basic human right.''
For the rest of the story, see http://bit.ly/13pQ5Gw
For Johnny Diaz's story, see,  http://bit.ly/17EEl4w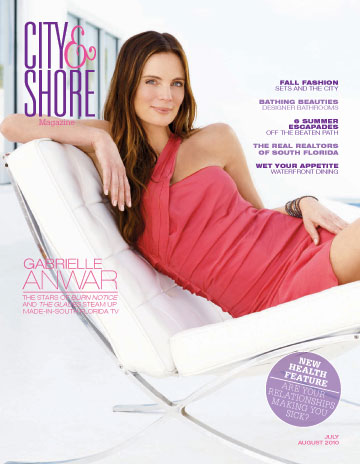 Related Articles
Share
About Author
(0) Readers Comments