By Ben Crandell
Photography by Susan Stocker
There are many reasons you do not want to find yourself in a COVID-19 unit, where fear grips both patients and hospital staff.
Treatment for the coronavirus is a waiting game — loved ones distant, healers masked — marked by hours, days, weeks of haunting solitude.
"COVID-19 is loneliness," says Sharmila Perez, a critical-care supervisor at Florida Medical Center in Lauderdale Lakes.
A picture of what patients experience with COVID-19 emerged in interviews with eye witnesses at five South Florida hospitals, from emergency-room doctors and nurses who set treatment in motion to the cleaning staff who toil at the end.
As they isolate themselves from their children, work 12-hour shifts behind stifling masks and struggle with life-and-death decisions, hospital staff watch the weakening of social-distancing rules with growing anxiety.
"They don't see what we see," says Yamila Cordoneda, a respiratory therapist at Memorial Regional Hospital in Hollywood.
Here is a glimpse behind the mask at these medical workers as they administer treatment and compassion along the cruel arc of COVID-19, from beginning to ends both sad and joyful.
Uneasy arrival
Patients encounter emergency-room doctors and nurses when the source of their ailment may be a mystery and their prognosis even more difficult to calculate.
Dr. Louis Isaacson, ER medical director, Florida Medical Center in Lauderdale Lakes
Isaacson, who lives with his wife of 44 years in Plantation, has been at Florida Medical Center for 25 years.
"The coronavirus is unpredictable and quite lethal. … Working in the emergency department, we put out fires. We are taking care of acute, emergent situations, and once those patients are stabilized, they usually head up to the intensive-care units and are taken care of by our critical-care specialists.
"The experiences that I remember the most, unfortunately, are the ones where we weren't able to help that individual stabilize themselves. The ones that were so decompensated in their illness that they were unable to be saved when they came to the emergency department. Those are the ones you think about quite a lot."
Dr. Khadil Hosein, ER physician, Memorial Regional Hospital in Hollywood
When the first wave of coronavirus patients hit Memorial Regional Hospital in late-March, the 36-year-old Boca Raton resident joined other doctors and nurses in tents, seeing more than 150 patients a day.
"That was scary because we didn't know what to expect. We were intubating patients and putting them on ventilators. I think I intubated my first patient, and it was kind of … uneasy, because you have to take your time and do your safety first, along with your nurses and your respiratory therapists. … I'm more like a cowboy, where you act quickly to save people. But you had to think about everybody. [Intubating] is at the highest risk for aerosolizing the particles into the air, so we had to particularly take our time. … Being an ER doctor for such a time as this was my purpose in life. We have the privilege of being on the front line and helping people when they really need it."
Eduardo Rojo, ER registered nurse, Broward Health Coral Springs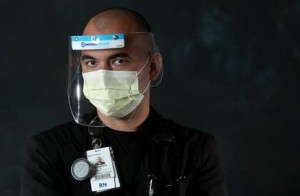 A 33-year-old Coral Springs father of twin 5-year-old boys, Rojo is the person many patients turn to as they first learn they have the coronavirus.
"That's one of the hardest parts of the job, to answer those questions to the patient. They ask you, 'What is going to happen to me? What would be the next step?' You've got to be careful. You don't want to lie to the patient. I try to support that patient emotionally and, you know, [tell them] I'll be there for them. It's a pretty hard time when that patient confronts you, and asks you, 'Eddie, what would be my next step? Am I actually going to be able to make it through? Am I going to be going home tomorrow?' "
Roland Desir III, patient transporter, Broward Health Coral Springs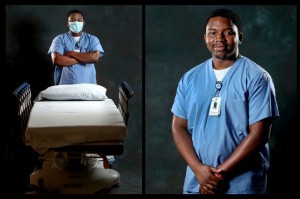 It falls to the 24-year-old Tamarac resident to take patients from the ER to the COVID unit, an elevator ride heavy with emotion as the diagnosis sinks in. Desir is the perfect man for the job.
"I tend to stand behind the patients, talking to them. … I try to keep the situation light, knowing they are going through such an emotional state of mind. … I do tend to smile a lot. It isn't hard, to wear a mask and smile, because you can still see your smile through the mask. As soon as your eyes start to light up, they're feeling a little bit better. It's not in the job description, but being the person and the personality I have, I like to make people happy."
 Life and death
Days and nights on the floor of a COVID unit requires protection for physical and emotional well-being of patients and staff.
Dr. Kiesha Raphael, anesthesiologist, Memorial Regional Hospital in Hollywood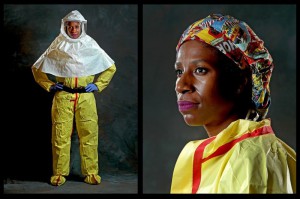 The Sunrise resident, 36, is married to a Palm Beach County firefighter and is the mother of two young daughters. For the past month she's been on the intubation team for COVID patients.
"One of the biggest memories I've had was with a patient. I was called to the bedside in the ICU because he needed to be intubated. He was still talking, but his oxygen level was really low. When I came into the room, it was me and my colleague in our full gear. He was talking to his wife, and I said 'Hi, I'm doctor so and so, and I want to come in, I need to intubate you because your oxygen level is low.' And he was scared. He said, 'I don't want to be intubated.' I told the nurse and the ICU doctor that he refused it. And I don't blame him.
"I went back into the room and I said, 'Can we just lay him on his stomach and see if that helps his oxygen level come up?' And we did. He was scared. His oxygen level went down. He asked me, 'Just don't leave. Please stay here a little bit longer.' So we stayed. I held his hand and kind of coached him through breathing. And with that, it kind of helped his oxygen level come up.
"I just remember him being terrified, begging us to stay in his room with him. It's just … He's by himself, and you're the only person he has at that moment. That was the part that really bothered me. It kind of weighed on me the rest of the night when I went home, and days after that. It still does."
Raphael was told two days later that the patient had been intubated. "That just broke my heart," she says.
Diana Grana, registered nurse, telemetry floor, West Boca Medical Center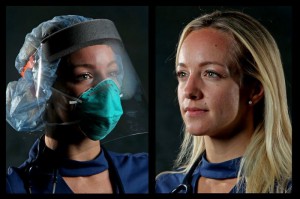 A 30-year-old Boca Raton resident, the mother of a 3-year-old son, Grana's expertise is in cardiac monitoring.
"I remember my first day when I got a COVID patient, I was terrified. And then they just started coming in, and it was, like, the norm. You have to wear an N95 [mask] to go in and out of the room. You have to completely gown up and make sure you do it the correct way, that everything is in the perfect spot, because you don't want to expose yourself. Walking in that room, you're exposed at all times. You're taking care of these patients. You're cleaning them, in their entirety. You're hanging meds. You're starting IVs. You have to be extremely careful."
Belynda Canete, registered nurse, Delray Medical Center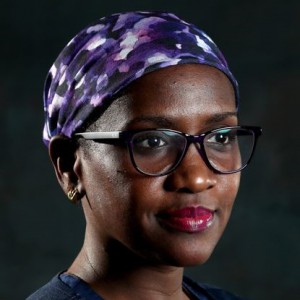 Canete, 37, lives in Boca Raton with her husband and sons, 8 and 28 months. She works night shifts in the cardiac unit, but often is assigned to work with COVID patients.
"I'm terrified. Of course, you don't let it show, but it's nerve-wracking because this is a deadly disease. I've never seen so many deaths. … It goes so fast. I see patients crash so fast. In a matter of days, they go from being OK, talking to me, and the next day intubated. It's scary."
The Haitian-born Canete fears what she sees in her community, in particular.
"I see that, especially black people, my people, are very stubborn … They don't listen, you know, how you're supposed to be social distancing and this and that. I don't think they understand the severity and the seriousness of COVID. I would like for people to really do their part and take it seriously."
Kathleen Ruiz, nurse manager, West Boca Medical Center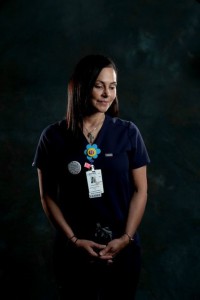 The mother of four daughters in Delray Beach, Ruiz, 50, decides which nurses are assigned to the COVID unit.
"I call them my fearless warriors. Because they don't mind going to the COVID unit. They volunteer. We had a patient… that was intubated. She passed away. And her mother is intubated here on the unit right now. You don't know it until it hits your family, and that hit hard, a mother and daughter. … It's out there, it's real. Maybe you haven't been affected, but there are so many families that have."
 Lonely in limbo
Treatment of COVID-19 is a waiting game. With family barred from visiting patients, hospital staff try to fill the void.
Sharmila Perez, administrative director of critical care services, Florida Medical Center in Lauderdale Lakes.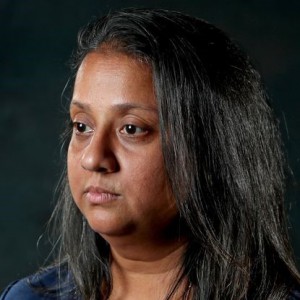 Perez, 45, and her husband live in West Palm Beach, the parents of children ages 12 and 13.
"This is a crazy disease, but we're used to sick people. We're just not used to people being alone. For me that's the toughest thing that I've had to deal with. That keeps me awake at night, knowing that if someone passes, they'll never get to say goodbye. Their family never got to say goodbye. To me, COVID-19 is loneliness."
Ashley Astacio, registered nurse, Memorial Regional Hospital in Hollywood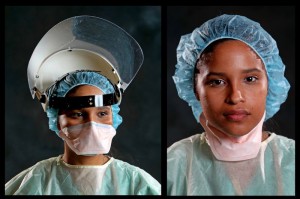 Astacio, 28, lives in Pembroke Pines with her mother, 10-year-old daughter and a brother with congestive heart failure. She moved to a hotel in March and FaceTimes her daughter to say goodnight. She has been known to cheer up patients with random dancing and air guitar.
"Mostly it's just about trying to calm them down, because they're afraid, and they're alone. You can't have a personal relationship with them, like you normally would, because you're in and out of the room so fast. I try to be as talkative as I can be in there while I'm doing my tasks. I want them to know they are not forgotten. It's very sad to me. … It's taught me to take more time with these patients, and focus on them, because the few minutes that you're in there could be their last few minutes."
Shelie Gorham, dietary department, Delray Medical Center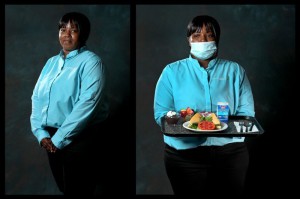 Gorham lives with her husband and four children in Delray Beach. She coordinates with nurses on patient nutrition requirements and takes calls from patients placing food orders. Some calls turn into impromptu counseling sessions.
"I talk to patients that have COVID who can't talk to their family, see their family, and I just give them words of encouragement. It's sad. … They'll call and say they wanted something extra. And then they want to talk. And I just talk to them, you know? Tell them it's going to be OK. We hold a conversation. I just listen."
Clinton Burton, environmental services supervisor, Broward Health Coral Springs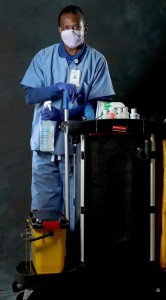 A Tamarac resident whose 20-year-old son is studying to be a doctor at Nova Southeastern University, Burton's career keeping hospitals sanitary goes back to training during the Ebola scare. In a soothing Caribbean voice, Burton describes his staff's holistic approach to the job.
"When we sanitize the rooms, we represent the hospital. We introduce ourselves, ask them if there is anything that is needed. During COVID a lot of patients [are] uneasy, and when we go in we really make them feel at ease. … They are scared for their life and sad. We have to give them words of courage. Strengthen their mind and strengthen them to go on, to live, because some of them say, 'I'd prefer to die.' But when we talk to them, you can realize that they understand that there's more to life than just to die. Remember, they are someone's family. They could be yours, they could be mine."
Departures
The COVID unit is the scene of a hospital's greatest tragedy and triumph over the mysterious disease.
Ashley Astacio, registered nurse, Memorial Regional Hospital in Hollywood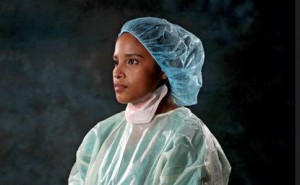 "We'll have a lot of patients who are just declining rapidly. I had a really bad week, about a month ago, where I had a couple pass. … I'd never had a patient pass, so I went from not having any patients passing to having three or four in one week, every day I came in. It was hard. You can see them declining on the monitor, so I'll go into the room and hold their hand until they pass, just so they're not alone. So it gives their family peace of mind, that their loved one wasn't alone when they passed away."
Linda Rom, neuro ICU nurse, Delray Medical Center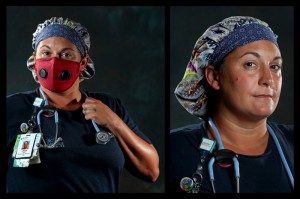 Rom, 39, is the mother of two children, ages 12 and 14, in Boynton Beach. She recently self-isolated from them and her boyfriend for two weeks.
"A majority of [my patients] have been here for weeks, so you get to know them, you get to know their families, and seeing whether they progress or digress. You have to mentally prepare yourself for both worlds.
"That's the most vividly etched memory in all of this: I'm the one that is here taking care of you. I'm not your family and I'm the one holding your hand while you're taking your last breath.
"When I go home, I put everything to the side, and my family and I have our routines. I can decompress. But these patients are always in the back of our minds."
Yamila Cordoneda, respiratory therapist, Memorial Regional Hospital in Hollywood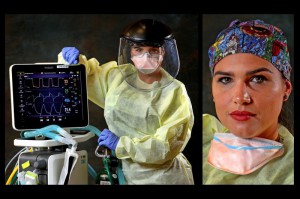 The Pembroke Pines resident, 31, assists in intubations before putting patients on ventilators. Because of the danger involved, Cordoneda is self-isolating at a friend's house and hasn't seen her husband or three children in a month. Her best days are when her work is being undone.
"When they come off the breathing tube, that brings joy to everyone. It's a very emotional moment. We saved a life, and that person gets to go home to their family, just like I want to go home to mine.
"This is what I wanted to do. We've dealt with many other viruses and many other bacteria and we handle it. … We go in there and we do our job. I do this because I care for humanity. I care for other people. I want other people to live. I feel great knowing I make a difference in other people's lives."
Staff writer Ben Crandell can be reached at bcrandell@sunsentinel.com, where this article first appeared, https://bit.ly/2Xrwvw0
Editors note: Interviews were condensed for clarity.
Lead photo: Yamila Cordoneda, respiratory therapist, Memorial Regional Hospital in Hollywood
Related Articles
Share
About Author
(0) Readers Comments