By Greg Carannante
City & Shore Magazine
Despite the shuttering of restaurant kitchens all across South Florida during the pandemic, one very important kitchen celebrated its grand opening recently.
Feeding South Florida realized a vision years in the making with the virtual christening of its state-of-the-art, 5,000-square-foot community kitchen, which will advance the organization's mission of ending hunger in the region by serving up to 10,000 meals daily for children's programs and older adults, as well as medically tailored meals.
Located in Boynton Beach, the one-of-a-kind kitchen will serve 1.3 million people in Palm Beach, Broward, Miami-Dade and Monroe counties, operating as a meal production site, culinary training program, and incubator space for graduates of the program, as well as a home for social enterprise catering and healthy cooking classes.
A virtual event streamed on Zoom and Facebook Live, the July grand opening was headlined by a handful of popular South Florida chefs showcasing the kitchen's capacities and preparing its very first meals. The chefs created unique and appealing dishes from the nutritious contents of boxes regularly distributed by the organization to South Florida families.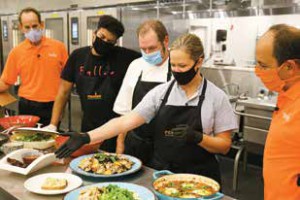 Local chefs prepare the kitchen's !rst meals during the virtual grand opening. Photo courtesy
The featured chefs were Lindsay Autry of The Regional Kitchen & Public House in West Palm Beach, Allen Susser of Chef Allen's Consulting in Hollywood, and Timon Balloo of Balloo Restaurant in downtown Miami. Chef Ralph Pagano of Naked Taco in Coconut Creek and Chef Randy Fisher of CREaM in Miami hosted the event.
"We will continue working with chefs through our culinary council, who will provide monthly recipes and online cooking demos," says Sari Vatske, executive vice president of Feeding South Florida. "In addition to providing meals for shelters during natural disasters, the kitchen provides home-delivered meals to older adults."
In response to the pandemic, Feeding South Florida has distributed over 40 million pounds of food (33.3 million meals) in the four counties in 14 weeks. That pace translates to nearly 150 million pounds over a 12-month period, and if it continues, would dwarf the 62 million pounds (51.6 million meals) distributed for the entire last fiscal year.
Part of the Feeding America network of food banks, the organization is the leading domestic hunger-relief organization serving the four counties. For more information or to donate, please visit feedingsouthflorida.org or call 954-518-1818.
Related Articles
Share
About Author
(0) Readers Comments