By Greg Carannante and Anderson Greene
City & Shore 20th Anniversary Issue
Images are the magic of magazines.
Sure, stories drive the world of print, but you can read them anywhere. A magazine, though, with its glossy pages and production values — that's where images shine.
City & Shore has certainly had its share of dynamic images, and for our 20th anniversary we share 20 of them — 10 personal favorites each from the two staffers who've been mostly responsible for making the magazine a visual experience: Greg Carannante, the magazine's art directors/designer for its first eight years, and Anderson Greene, who's held the position since.
Greg's Favorites
Chris Evert - December 2003/January 2004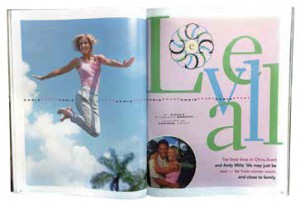 Perhaps the coup of my art-directing career was prodding America's tennis queen up onto her backyard trampoline for a sequence of gymnastic midair portraits by photographer Andrew Itkoff that were the coolest celebrity shots of the magazine's early years.
Swimsuits – April-May 2001, February-March 2002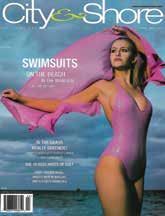 Swimsuit fashion stories have been among City & Shore's most stunning photographic spreads, beginning with our first two, shot by Sun Sentinel photographer Robert Duyos. His artful image on our April-May 2001 cover won it the Best Cover award from the Florida Magazine Association. Not too shabby for a second issue.
Peter Max - February-March 2006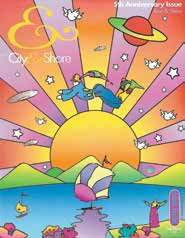 The celebrated pop artist was our most high-profile collaborator for the cover of our 5th Anniversary Issue, which also introduced a sophisticated new look and a daring redesign of the magazine logo.
Andy Roddick - April-May 2006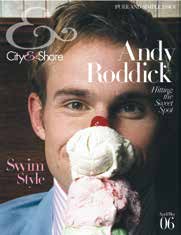 Photographer Mateo Garcia's delish celebrity portrait of tennis champ Andy Roddick was the cherry on top of Elyse Ranart's fantastic, fun fashion spread in her second issue as style director.
Splash & Burn - February-March 2004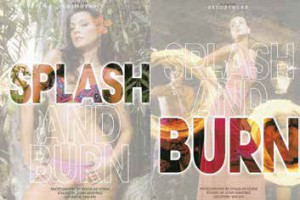 A swimsuit shoot at the landmark Mai-Kai Restaurant and Polynesian Show made for dynamic photos by Douglas Voisin and stylist John Martinez — as well as a couple of flashy, symmetrical spreads.
Niki Taylor - August-September 2006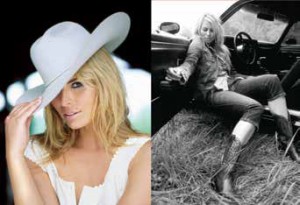 Style director Elyse Ranart traveled to the Tennessee home of Cooper City-bred supermodel Niki Taylor to score once more with a killer celebrity fashion spread and an irresistible cover portrait by photographer Jill Wachter.
Dressing With the Dolphins - August-September 2002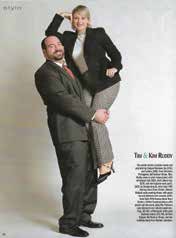 Pro football centers are not known for their fashion sensibilities. Which is one reason that Kevin Justice's photo of Tim Ruddy was such a fun shot from our fashion spread with Miami Dolphins couples posing as models. The other reason, of course, being the way the center hiked up his wife, Kim.
Let it glow - December 2004/January 2005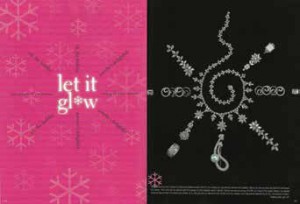 Geometric graphic designs reflected a snowflake theme that illuminated Jim Fairman's photos and John Martinez's styling in an elegant holiday jewelry spread.
Seeing Stars - February-March 2001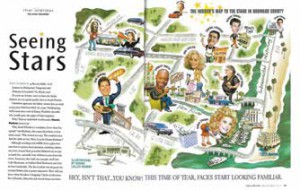 Illustrations held a prominent place in our early issues, such as this comical marriage of celebrity headshots with cartoon drawings in our very first. Illustrator Bonnie Lallky-Seibert's innovative photo illustrations were so well-received that they were repeatedly reprised on the magazine's special advertising pages.
Bachelorette No. 1 - December 2002/January 2003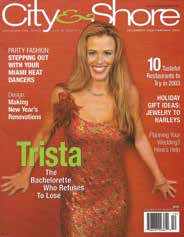 From Miami Heat dancer to America's inaugural Bachelorette sensation, Trista Rehn was City & Shore's first homegrown celebrity story. At the height of her fame, photographer Robert Duyos captured her sweetheart sparkle for our holiday issue cover. You always remember your first.
Anderson's Favorites
Richard Avedon, October 2018
The Slam Dunk, October 2010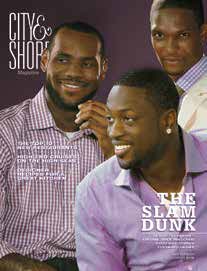 Swimwear, January 2010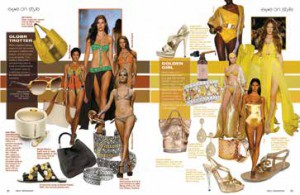 Food & Dining, September 2017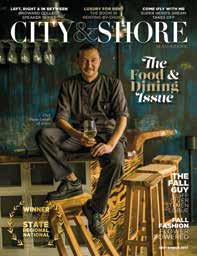 Style File, February 2015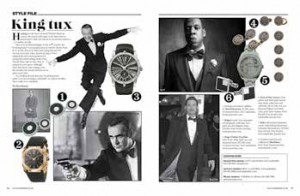 Phil Collins, August 2016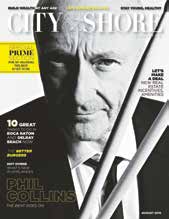 The Season, January 2018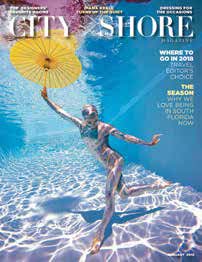 Lady Gaga, April 2011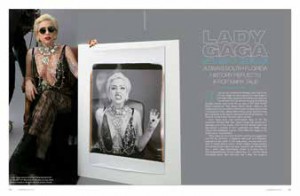 Madonna, December 2019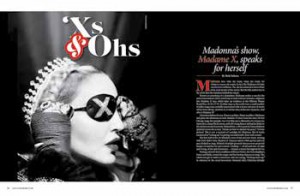 Drew Barrymore, October 2011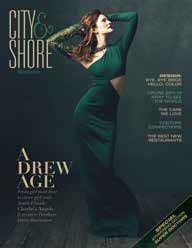 Related Articles
Share
About Author
(0) Readers Comments