By Emily J. Minor
City & Shore Magazine
You've been invited aboard.
It's a big deal, really. How often do you go out on an 187-foot yacht?
But when you pull open your special yachting drawer – that sad little hope chest of the sea – are all your cute coverups made of that itchy, black mesh material?
Oh buoy.
Boating outfits – and all the accessories that go with – ought to be fun and fabulous, says Fort Lauderdale stylist Anne Morrissey. And while this might seem a tad intimidating, she offers some pretty convincing arguments.
"It's a celebration that you even get to be there," says Morrissey, who runs Morrissey Style Consulting and helps men and women choose what looks best on them – usually on dry land.
"Dress accordingly," she says. "Respect the venue."
Here and over the next few pages are some timely suggestions, when your boat comes in at the Fort Lauderdale International Boat Show, Nov. 3-7.
Be colorful.
"Boating is happy," Morrissey says. "It's a free-flowing sort of activity. You don't want to be in black. People think black makes them look smaller, but it actually just makes them look depressed." So do color, and do it up big. Morrissey loves a store called "Everything But Water" (Town Center at Boca Raton and Aventura Mall) which has, what she calls, "the most beautiful bejeweled colorful coverups you can imagine." Don't just dabble in a little color. Do it up big with fuchsia, turquoise, orange, blue. Kaftans and long, flowing dresses are great for plus-sizes. And so are palazzo pants – those free-formed pants of the '60s. "You don't want to be overdone," she says. "You want to look easy and relaxed."
Accessorize
Morrissey suggests big, bold jewelry on board – jewelry so chunky that the Coast Guard would be able to spot us from a few knots aweigh. (Sorry.) "It has to be jewelry you can see," she says. "Otherwise, why even bother?" A long white T-shirt dress can be made super fabulous with some turquoise clunkery. Big hoop earrings. BIG! "That would look very chic," she says. Diamond-stud posts and a tennis bracelet might be cute at the club, but not for this. "More accessories can make you beautiful." And this just in, gentlemen. You might need to up your game, too. "Men's jewelry is really starting to make a comeback," says Tracey Dikes, co-owner of Weston Jewelers. "We're seeing a large number of men wearing bracelets again. They're intertwining lots of colors – navy, red, white, black – and steel." Very nautical.
Fancy Footwear
First, the good news: You don't have to wear heels. The bad news? "Absolutely no flip flops," Morrissey says, in a tone she probably uses when telling clients not to wear pajama bottoms to the grocery store. (Picky. Picky.) No, for this boating adventure, wear beautiful jeweled sandals, we are told. Also, keep your sandals flat; good footing on a boat is vital. After all, not everybody ends up with Kurt Russell when they go overboard
The right attitude – and lipstick
If you look good without makeup, then go without makeup. (Although everyone can use a little waterproof mascara.) But you're probably going to need a little bronzer and "a beautiful lipstick." "Some people can do no makeup, because they're tan," Morrissey says. "Most people need a little something." And the final ingredients for looking great? Beachy hair, maybe just pulled back, braided or ruffled with some product. Nice-smelling SPF. And a great attitude." "Don't think, 'Oh, I'm just going out on a boat,' Morrissey says. "Think, 'I'm going out on a BOAT.'"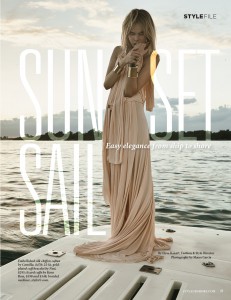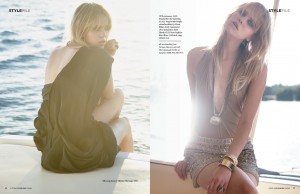 Related Articles
Share
About Author
(0) Readers Comments