By Greg Carannante
 City & Shore Magazine
Does anything say brunch better than Eggs Benedict?
OK, mimosa maybe.
But bubbly aside, generally speaking if you're eating Eggs Benedict, you're at brunch.
And in much the same way that brunch upgrades breakfast, Benedict — unlike its pedestrian cousin the omelet — takes the everyday breakfast staples of eggs, toast and bacon and recasts them as something special.
It's the special sauce that does it, the Frenchified emulsion of egg yolk, melted butter and lemon known as hollandaise. Slathering it over a poached egg and a slab of Canadian bacon on half of an English muffin, the result is savory, creamy, gooey and crunchy at the same time — rich, but not filthy rich.
Not surprisingly in this era of the foodie, there are dozens of variations on that classic recipe. They can be rather tame, like old-standby Eggs Florentine, which adds spinach to the mix — or bold, like the Lobster Jalapeño Cornbread Benedict served at Key Biscayne's Rusty Pelican.
The origin story of the dish doesn't boast as many variations as the recipe, but there are more than a few. The two most credible originate in Manhattan landmarks — one at Delmonico's, regarded as the country's first fine dining restaurant, and the other at the Waldorf, the city's grandest hotel. And for each, the year 1894 is key.
Delmonico's claims on its menu that it was the first restaurant to create Eggs Benedict in 1860. Chef Charles Ranhofer is said to have concocted the dish when a regular customer named Mrs. LeGrand Benedict, having tired of the menu, asked him to surprise her. He called what he came up with Eggs a la Benedict and later included the recipe in his 1894 cookbook.
That same year, according to the Waldorf's archive, a different Benedict — a hungover man named Lemuel — ended up in the hotel after a night of drinking and ordered "some buttered toast, crisp bacon, two poached eggs, and a pitcher of Hollandaise sauce." The order caught the eye of maître d' Oscar Tschirky, who modified the dish with ham and English muffin and put it on the Waldorf menu.
Here is where the sauce thickens, however, because Tschirky, who incidentally is also credited with having created the Waldorf Salad, had previously been maître d' of Delmonico's.
Wherever it came from, Eggs Benedict has been blessed with staying power — and a versatility that's reflected in tantalizing iterations at these 11 South Florida restaurants: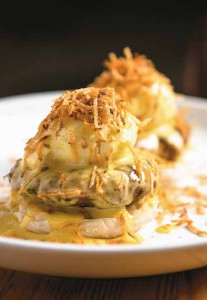 Frita Benedict Ariete, Coconut Grove, courtesy
Ariete, Coconut Grove, arietecoconutgrove.com
Here, newly minted Michelin-starred and two-time James Beard Awards semi-finalist Chef Michael Beltran marries his Cuban heritage with his classic culinary training. So much is evident in the Frita Benedict offered on the three-course brunch menu, which serves a ground chorizo "frita" patty atop homemade white bread, topped with a poached egg, hollandaise and crispy shoestring potatoes ($65 prix fixe brunch menu).
The Circle, Palm Beach, thebreakers.com
For take-it-to-the-limit, old-world extravagance — the kind that costs $155 per person and where "torn denim, tank tops, T-shirts or hats" are a stipulated no-no — Sunday brunch at The Breakers is unbeatable. Eggs Benedict is perhaps overshadowed here by such indulgences as a domestic caviar station, seasonal stone crabs and more than 30 desserts. However, the Circle's regular breakfast menu offers a traditional Benedict ($28) and a Smoked Salmon version ($30), both with crispy potatoes.
Coconuts, Fort Lauderdale, coconutsfortlauderdale.com
With its yacht-dappled vista of the Intracoastal's New River Sound, this longtime Lauderdale haunt has a laid-back vibe but takes its weekend brunch seriously. To wit: A party of four could each order a different version of Eggs Benedict. There is the Lobster Benedict, with Maine lobster claw meat (mkt.); Florentine Benedict, with sautéed spinach ($13); Smoked Salmon Benedict, house-cured and smoked, with a hint of dill ($16); and the Salami Benedict, with grilled beef salami ($14).
Deck 84, Delray Beach, deck84.com
This is a primo spot for a boat-lover's brunch, with an unobstructed Intracoastal view that helped put it on OpenTable's list of Top 100 Al Fresco Restaurants in America. In keeping with an unpretentious menu, its Eggs Benedict keeps to the original recipe, adding a side of home fries ($16).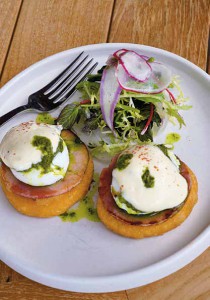 Eggs Benedict Dune by Laurent Tourondel,
Fort Lauderdale, courtesy

Dune by Laurent Tourondel, Fort Lauderdale, dunebylt.com
Late last year, the Michelin-star chef teamed up with the former longtime Ralph Lauren creative director, Alfredo Parades, to recut this oceanfront jewel in his image. The brunch menu features two distinctive Benedicts: Poached Eggs Benedict "Verde," with country ham or smoked salmon, hollandaise and salsa verde on a grilled corn arepa ($25); and Spicy Lobster Benedict, with poached eggs and lobster bisque hollandaise on brioche toast ($52). Not lavish enough? Add Osetra Caviar at $35 per half-ounce.
Galuppi's, Pompano Beach, galuppis.com
Perhaps best-known as the home of live cover bands, this rockin' restaurant also offers a  "World of Benedict," so phrased on its menu. Four varieties of the dish are available at breakfast and Sunday brunch, all on English muffin with hollandaise: Caprese, with mozzarella and prosciutto; Nova, with smoked salmon; Veggie, with thick-cut tomato and spinach; and California, with mozzarella and avocado ($12.99 each). All come with a choice of hash browns, home fries or grits.
GG's Waterfront, Hollywood, ggswaterfront.com
With its Rat Pack legacy and dockside perch on North Lake, GG's is a swinging sunset go-to – adding live music to the mix on Sundays from 5 p.m. to just after the sun goes down. But its weekend brunch has a lot going for it too, such as the Millionaire Eggs Benedict, living large with jumbo lump crab, poached eggs, house-cured bacon and béarnaise sauce on a house biscuit ($22).
Rusty Pelican, Key Biscayne, therustypelican.com
Both brunch and Benedicts are big at this Miami mainstay for fresh seafood and waterfront skyline views. Of the three varieties on the menu, the Lobster Jalapeño Cornbread Benedict stands out, with its freshly baked jalapeño-cheddar cornbread piled high with broiled Maine lobster, poached organic eggs and crispy shallots ($40). There's also the Smoked Salmon Benedict on toasted brioche with fingerling smash and béarnaise sauce ($26), and Crab Cake Benedict, which switches out the béarnaise for chipotle hollandaise ($28).
Tanzy, Boca Raton, tanzyrestaurant.com
The modern Italian flair of this Mizner Park favorite is reflected in a weekend brunch Eggs Benedict that substitutes crispy prosciutto for Canadian bacon ($16) to the classic recipe. And the addition of grilled asparagus to this and the two other Benedicts — spinach ($15) and smoked salmon ($18) — is a nod to the award-winning restaurant's way with garden-fresh ingredients.
Tinta, Fort Lauderdale, lonarestaurant.com
Tinta is the breakfast-only sibling to the Westin Beach Resort's upscale Mexican eatery, Lona Cocina Tequileria, whose Spanish names — tinta (ink) and lona (canvas) — riff on Chef Pablo Salas' love of tattoos. Tinta's unique take on elevated breakfast cuisine is epitomized by its best-selling Crab Tostada Benedict, which piles lump crab, refried beans, smashed avocado, a soft-poached egg and chipotle hollandaise onto a crispy white corn tostada ($15). There's also the Smoked Salmon Benedict, with avocado, toasted bagel, poached egg and tomato caper hollandaise ($14), and for traditionalists, Eggs Benedict Tradicional ($11).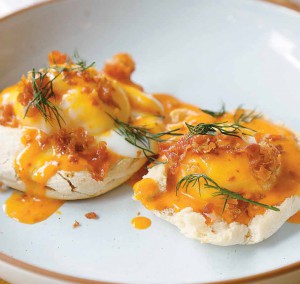 Speck Benedict Ya Mas!, Fort Lauderdale, courtesy
Ya Mas!, Fort Lauderdale, yamastaverna.com
Opened early this year, the personality of this lively, chic taverna resonates in its name, which means "Cheers!" in Greek. Conceptualized by reality TV star Memphis Garrett, Ya Mas! transports diners from Las Olas Boulevard to the Mediterranean islands. Executive Chef Austin Blake's Speck Benedict serves up the Italian cured ham ultra-crispy, topped with poached egg and aleppo hollandaise on brioche ($18).
LEAD PHOTO: Crab Tostada Benedict, courtesy Tinta, Fort Lauderdale
Related Articles
Share
About Author
(0) Readers Comments