By Robyn A. Friedman
City & Shore Magazine
It's not unusual for new restaurants to pop up in South Florida. New concepts in dining open – and, unfortunately, close – frequently here, drawn to our growing population and diverse consumer base. But increasingly, restaurants are seeking plum spots in mixed-use developments, where they have a captive audience – residents who want easy walkability to restaurants, shopping, entertainment and, often, employment opportunities.
"Restaurants have become increasingly important to include in residential projects because of the convenience and added value they offer to residents," says Ryan Shear, managing partner of Property Markets Group (PMG), a national real estate development firm with offices in Miami and Manhattan. "Incorporating a restaurant component into a residential development elevates the overall living experience for residents, who are looking for more than just a place to call home. Today, residents are looking for apartment and condo buildings where they can spend time with family and friends, then head downstairs to grab a drink or eat a great meal, all within steps of their front door."
Here are three South Florida real estate developments with that all-important restaurant component – or several.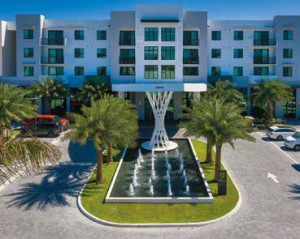 Boca Raton
Uptown Boca
Glades Road and U.S. 441
561-375-5351, uptownboca.com
A 38-acre luxury apartment and retail development by Giles Capital Group, Rosemurgy Properties and Schmier Property Group, Uptown Boca includes 179,000 square feet of retail and restaurant space and 456 luxury apartments. The apartments provide walkability to shopping, entertainment venues and numerous restaurants. Restaurants currently open include BurgerFi, Just Salad, Chick-fil-A, Olive U Mediterranean Grill and Sloan's Ice Cream. Future restaurants include Lynora's, Lazy Dog Restaurant & Bar, Naked Taco, Bolay, Bonefish Grill, Zen Sushi and Robata Grill.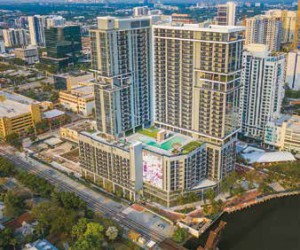 Fort Lauderdale
Society Las Olas
301 SW First Ave.
954-372-8628, https://lasolas.societyliving.com
Developed by PMG, Society Las Olas is a 34-story apartment project in downtown Fort Lauderdale that includes 639 units. Unit types include studios, junior one-bedrooms and one- and two-bedroom apartments, available furnished or unfurnished, with "rent-by-bedroom" (co-living) options. The project also includes several restaurants. Already open is Peacock's Barbersalon and Drinks, a full-service hair and nail salon, coffee shop and bar located in the second-floor lobby of Society Las Olas. Pura Vida, a surf-themed restaurant scheduled to open before the end of the year, will offer juices and health-conscious sandwiches, soups and salads. Construction is scheduled to begin by the end of the year on Matchbox, a neighborhood restaurant that will offer wood-fired pizza, mini burgers, chef-inspired entrees, craft beer and cocktails.
Miami
Natiivo Miami
601 NE First Ave.
866-266-2390, natiivomiami.com
Developed by Sixth Street Miami Partners LLC, the 51-story Natiivo Miami will include 448 condominium units and a 240-room hotel, Gale Miami, operated by Menin Hospitality. In addition to amenities such as a resort-style pool with cabanas, working space and a fitness center with a boxing ring, the project will include two restaurants. Dolce Mercato will occupy over 7,100 square feet on the west side of the ground floor of the building and will include an indoor restaurant, outdoor garden, café area, a gourmet market with coffee and dessert options and a bar. Dolce will feature Italian cuisine. Another dining concept, Bodega Taqueria, will offer tacos, burritos and other Mexican favorites. The restaurant will have an expansive outdoor patio. Both restaurants are expected to open in Summer 2023, when Natiivo Miami is complete and ready for occupancy.
Related Articles
Share
About Author
(0) Readers Comments