Cesar Millan, the "dog trainer to the stars," has been called in to help Oprah Winfrey, Dr. Oz and Scarlett Johansson, among others. He's now sharing what he knows with us all through a new TV show and at his Dog Psychology Centers, including an outpost in South Florida. Our cover story on Millan's dog days leads off our annual summer issue, which also includes:
–Blame it on Baywatch – all those colorful suits on stars Dwayne "The Rock'' Johnson, Kelly Rohrbach and Alexandra Daddario – but swimwear this season is bringing a riot of color back to the beach.
–Design Writer Charlyne Varkonyi Schaub brings expert advice for showcasing a home's best features in summer, from plantings to furnishings.
–Whether you're seeking a resort with activities for the whole family, a quaint inn for a romantic rendezvous or an excursion out to sea, Florida has something for every vacation – and, this time of year, often at a discount.
–Remember how hard it was getting a table at a restaurant in season? Well, the lines (mostly) subside in summer time – and the dining deals are easy.
Plus much more – including a look back at The Beatles' first visit to Miami, just in time for Paul McCartney's upcoming concert at AmericanAirlines Arena – in the Summer Issue, in print, online at http://www.cityandshore.com and iPad on July 2.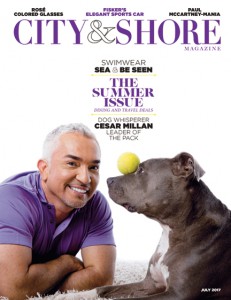 Related Articles
Share
About Author
(0) Readers Comments