In these days when dining under the sky is decidedly safer, can we South Floridians learn how to enjoy the outdoors for a meal or a drink?
Yes, yes, we can. Or at least, that's the consensus we've reached after talking to experts, local chefs and barkeeps who have stellar advice on how we can learn to enjoy eating and drinking outside more.
There's no telling if our new al fresco lifestyle will last beyond the pandemic precautions, but people have been enjoying food and beverage for eons outdoors in other parts of the world, writes our correspondent Eric Barton. In the islands, waterfront seating remains full even when it's sweltering. In southern Europe, eating al fresco is pretty much the only way to eat. You'll even see people filling sidewalk tables up north in temperatures that would make a South Florida meteorologist issue a cold-weather warning. (Hey, 72 degrees is room temperature for red wine).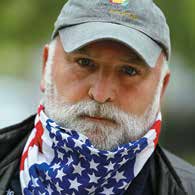 It's a discussion we can have – at social distance, of course – over the table of our annual Food, Wine & Spirit issue. We'll meet super chef José Andrés, who is finding ways to feed imperiled people around the world; tour some showplace kitchens that do so much than just cook; talk with nutritionists who think the pandemic may be changing the way we eat (and even the way we look at food); get some ides for freshening a dining spaces, from simple switch-outs to extravagant enhancements; listen to On the Money columnist Robyn A. Friedman discuss whether we're saving money eating from home these days; sample food from one of the many new delivery options at home and settle once and for all if the wine you're drinking would taste better in a different glass. (Spoiler alert, you're going to want to throw out the plastic cups before you read it).
All of this and more in the September Food, Wine & Spirit issue of City & Shore, coming this weekend in print, online and digital, http://www.cityandshore.com/
PHOTOS, from top: Al fresco at Taru at the Sundy House in Delray Beach, courtesy; Chef José Andrés, photographed by Terrence Anto; and Maximilian Riedel, photographed by Mark Gauert.
Related Articles
Share
About Author
(0) Readers Comments