Much has been made this summer that the Michelin Guide has begun to review restaurants in Florida. People talk about how that's finally going to put our restaurants – at least the ones they've reviewed initially in Miami, Orlando and Tampa – on the culinary map. That it's about time our restaurants got the attention – and star ratings – they deserve from "the most respected international restaurant rating system in the world."
But notably missing from the Michelin Guide's initial list is any mention of some more-than-worthy restaurants in Broward and Palm Beach counties. Our September Food, Wine & Spirit Issue attempts to make up for that, calling out 10 restaurants we think are worthy of stars – if the Michelin Guide ever travels a bit farther in Florida.
Among the notables is Chef Laurent Tourondel's work reimagining Dune in Fort Lauderdale – one of the most beautiful dining rooms in town. The creative chef and his team have managed to improve on the beautiful location with a new concept and recognizable-yet-rethought dishes. Notable destination-dining in Palm Beach County include the stellar-worthy Būccan, Butcher's Club, Café Boulud in Palm Beach County and La Goulue, among others.
Also in the issue, we meet Ginger Flesher-Sonnier, the "entrepreneur of fun" behind Delray's rollicking THRōW Social; visit with the creators of a South Florida-bred Mexican restaurant attempting to bring their world-worthy tacos and quesadillas to the rest of the world; search for notable Eggs Benedicts on a brunch crawl of South Florida; learn how not to be the victim of counterfeit wine – and to be tech "Smart" about how you store the wine; feel the heat of five hot kitchen designs; travel to Orlando for a preview of this year's Epcot International Food & Wine Festival; and check in with former Sun Sentinel food writer and dining critic Mike Mayo, who's still dishing about dining out.
All this and more in the September Food, Wine & Spirit Issue, coming this weekend in print, digital and online at http://www.cityandshore.com/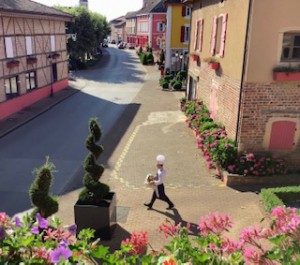 Chef Georges Blanc's "Village Gourmand" in France, home of the Michelin Guide. Photo by Mark Gauert
Related Articles
Share
About Author
(0) Readers Comments