The Top Chefs and Best New Restaurants of the year – plus a peek inside the hottest new kitchens, some table talk with Dr. Sonali Ruder, Fort Lauderdale's "Foodie Physician,'' and what chefs make for themselves when they're not cooking for others – are the featured attractions in the annual Food & Dining Issue of City & Shore Magazine.
"We like our food here – and this year we seem to be particularly fond of craft tacos and Asian fusion," says our Fine Dining writer Rebecca Cahilly-Taranto, who reveals her 15 favorite new restaurants and three top chefs (one each for Broward, Miami-Dade and Palm Beach counties) in the September issue.
We also speak to a trio of local chefs from different culinary backgrounds to get the secret, off-the-menu recipes they dish for themselves.
"Chefs get cravings for snacks that can't be found at their restaurants," says writer Phillip Valys, "and after long evenings firing up grilled octopus and bone-in ribeye, they find their own zen in the simplicity of comfort food."
Away from the kitchen (and table), we'll also find out who's coming to the Broward College Speaker Series, test fly a "super hero's dream'' in Davie, find out why "Renters by choice" are fueling a new demand for luxury apartments and meet Steven LoBue, who somehow managed to become one of America's most decorated cliff divers from largely cliff-less Fort Lauderdale.
All this and more in the September issue of City & Shore, now available in print, online at http://www.cityandshore.com and iPad.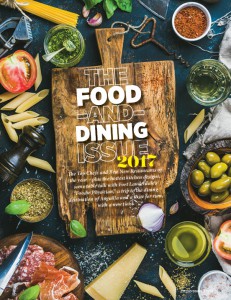 Related Articles
Share
About Author
(0) Readers Comments