By Greg Carannante
City & Shore Magazine 
Lord knows, we could use a good laugh. About 20 months' worth, actually.
And just in time, South Florida is experiencing a surge in comedy shows. From top-shelf stand-ups to fringe-y favorites to, yes, clowns, comedians are doling out sorely needed shots in the funny bone. It's like the subtitle of Jim Gaffigan's new Fun Tour says: "We All Deserve This."
In the out-there category, Broward Center hosts two funnymen who have carved out their own comedic lanes: Puddles Pity Party (Dec. 16), pictured above) is the white-faced clown alter ego of singer Mike Geier, who refuses to acknowledge the existence of Mike Geier and who spins a one-of-a-kind concoction of silent prop comedy, mime, songs and audience participation. Also, storyteller and political satirist Randy Rainbow (Jan. 27) turns his hot-button viral videos and song parodies into a live show that's something of a homecoming for the Plantation High graduate.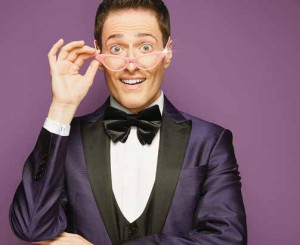 Randy Rainbow (Courtesy)
In another kind of out-there category, two lesbian comics will visit The Savor Theater, which doubles as Savor Cinema, home of the Fort Lauderdale Film Festival. Judy Gold (Dec. 4) is an Emmy-winner and author of Yes, I Can Say That, whose piercing musings animate her show of the same name. Suzanne Westenhoefer (Jan 15.), the first openly gay comic to host her own HBO Comedy Special, is celebrating a quarter-century of unconditionally candid comedy.
In still another kind of out-there, Mizner Park Amphitheater is taking the traditionally indoor standup scene out into the open air with a new series, Comedy on the Green. Laid-back socially distanced seating with low-slung beach chairs and blankets pre-positioned on the lawn reflect the beach-town vibe. Late-night TV staple Ted Alexandro (Dec. 10) is next up on the bill. Interestingly, Mizner Park doubles the funny business on the same night — but indoors at its Cultural Center — as comedians Myke Herlihy and Kevin White bring the braggadocio with their Florida's Funniest Comedians show.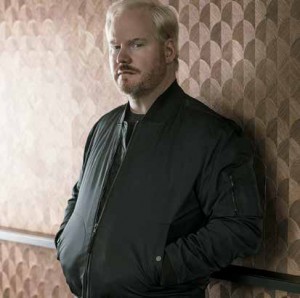 Jim Gaffigan (Courtesy)
What about the big-names? Well, they're about as plentiful as food bits in a Gaffigan set. Speaking of whom, the big pale kahuna of clean-ish comedy merits two evenings at Hard Rock Live (Dec. 27-28). The Emmy-winning funnyman, now introduced by talk-show hosts as "comedian and actor," has earned 20 acting credits since 2019, including two upcoming biggies: the lead in the upcoming sci-fi dramedy, Linoleum, and the Smee role in Disney's live-action Peter Pan & Wendy.
But, to borrow from his shtick, standup is still his bread-and-butter. Onstage, expect the pitch-perfect observational stream of hilarity (amplified by his trademark whispers from the superego) that has made Gaffigan the country's third highest-grossing comedian (behind Kevin Hart and Jerry Seinfeld), and that last year made him the first comedian to reach one billion streams on Pandora. With a Midwest mentality and a Manhattan apartment shared with five kids and writing partner wife Jeannie, Gaffigan checks a lot of boxes. If you can't score a ticket to the Hard Rock shows, though, be consoled — a Netflix special from the tour will air later this year.
As for Hard Rock Live, it's virtually comedy central this season, hosting shows by big-man-on-TV Kevin James (Dec. 3), now starring in Netflix's The Crew; tequila-tipping raconteur Ron White (Dec. 18); and former sitcom star and the voice behind Buzz Lightyear, Tim Allen (Jan. 6). The venue also gets into the spirit of the season with Comedy 4 A Cause (Dec. 8), a benefit for the Neighbors 4 Neighbors nonprofit. Standup Brian Regan is the featured performer.
Clockwise from top left: Bill Maher, Jano Leno, Who's Live Anyway. (Courtesy)
Other venues good for a laugh are The Parker, with the improvisational fun and games of Whose Live Anyway (Dec. 5); the never-the-same-act-twice act of Paula Poundstone (Dec. 9);  and the gangsta-of-angst eruptions of Lewis Black (Dec. 10). The Kravis Center welcomes two TV comedy heavyweights almost back-to-back: the onetime, longtime king of late night, Jay Leno (Jan. 12); and the snarky personification of acerbic wit, Real Time's Bill Maher (Jan. 15).
  Editor's note: Please confirm performances and Covid precautions prior to going to the theaters.
 All photos courtesy.
Related Articles
Share
About Author
(0) Readers Comments