By Mark Gauert
City & Shore Magazine
My friend Bob will not drive an electric car. "An appliance," he dismisses, "is not a car."
His assessment would ordinarily make no difference to me – I'm down with the cause of reducing carbon in the atmosphere – but Bob and I are both fond of Jaguars. Fond of the way they look. Fond of the way they sound. Fond of the way people stop whatever they're doing to look at the F-Type or XK-R or whatever Jaguar incarnation happens to purr by.
Bob and I have had some fun in Jaguars, too. We once dropped the top of a two-seat F-Type, paddled into manual, flipped on the active exhaust and aimed approximately all 495 horses down the venerable Henry E. Kinney Tunnel in Fort Lauderdale. The V8 engine fairly snapped, crackled and popped those old yellow-tile walls. (We think most of the tiles are still there).
You're just not going to get that kind of show from an appliance. Especially one so silent when you start it, Jaguar had to create a sound for the I-PACE so people would know it's on.
So, like Bob, I approached the Jaguar I-PACE, my first fully electric review car – with a range of some 234 miles, fully charged – with some hesitation. Could an electric Jag have anywhere near the snap, crackle and pop of the internal combustion icon?
The short answer is no – but, darn it, I am fond of the Jaguar I-PACE, too. Fond of the way it accelerates, from 0-60 in 4.5 seconds (just a thin second behind the F-Type R). Fond of the way it cuts and runs through traffic, like the XK-R I once tested at Homestead-Miami Speedway. Fond of the way people stop whatever they're doing to look at a Jaguar that makes no sound – and no carbon – buzzing by.
"This car has a lot of torque,'' Bob conceded, as he drove our $87,120, Corris Grey I-PACE tester through his neighborhood.
"Look, Bob," I observed. "Those girls just stopped in the street to look at us." He'd deny it, but I thought I saw a tiny smile crease his face.
That'll happen, when a Jaguar I-PACE ruins the idea an electric car's no fun.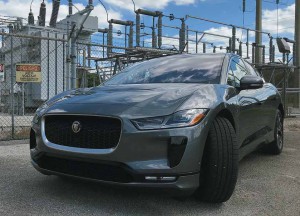 2020 Jaguar I-PACE EV400 HSE
List price $80,900; price as tested, $87,120 (including $1,025 delivery charge).
Equivalent fuel efficiency: 80 miles city, 72 highway.
Range: 234 miles.
Charge time (240V): 13 hours.
No. grams CO2 per miles: 0
Comfort & Convenience: Fixed panoramic roof, power gesture tailgate, two-zone climate control, rain-sensing windshield wipers, Meridian Surround Sound System, among many other features.
Options at tested: Head-up display, cabin air ionization, four-zone climate control, front fog lights, among other features.
Related Articles
Share
About Author
(0) Readers Comments