Editor's note: Bunny Yeager, who died Sunday in Miami at age 85, left an indelible mark on South Florida's modeling and photography community – as detailed in this 1998 profile in the Sun Sentinel's Sunday magazine, Sunshine. We reprise an excerpt from that story here, and add our condolences to her family and many fans around the world.
By John Parkyn
 Bunny Yeager's career as a photographer began by chance, and because she was in the right place at the right time. Born near Pittsburgh, she moved with her family to Miami when she was in her teens. Almost immediately, Linnea Eleanor Yeager became mesmerized by the sight of well-tanned bodies sunning on the sands and splashing in the surf.
 "I'd always loved those Dorothy Lamour movies where she ran around in a sarong," Bunny says. "Florida was a paradise after Pennsylvania's endless winters, and I spent all my spare time at the beach. I guess that's when I first thought about becoming a model."
 Bunny attended Miami Edison High, where she earned the nickname that would become her signature.
 "I played the Easter bunny in a school play," she recalls. "I've been Bunny ever since."
 When she graduated she was voted "The Girl with the Sweetest Smile."
 There was a lot more to Bunny than a smile, however. She was a statuesque 5 feet 10 inches, and her once-thin figure had evolved into a curvy 36-25-37. Bunny enrolled at the Coronet School of Modeling in Miami's old McAllister Hotel, but because she also had to earn a living, she found work at a finance company, typing and answering the phones.
 Bunny didn't know it then, but she couldn't have picked a better time to try her luck as a model. Florida was slowly rebuilding its tourist trade after World War II, and the state had embarked on a decade-long love affair with what a journalist would later define as "big cars, big hotels and big breasts."
 The demand for cheesecake photos was prodigious, and by the time she was 20 Bunny had won 15 of the bathing-beauty titles that epitomized the beach culture of the '50s. In quick succession she was Queen of Miami, Florida Orchid Queen, Miss Trailercoach of Dade County, Miss Army & Air Force, Miss Personality of Miami Beach, Queen of the Sports Carnival and Cheesecake Queen of 1951. Only one title eluded her.
 "I tried four times to become Orange Bowl Queen," she says. "Somehow I never made it."
 From contests it was a logical step to postcards, those ubiquitous missives featuring a scantily clad beauty and some kind of "Wish you were here" message. Bunny began working for the Gulfstream Postcard Co., which sold 200,000 cards a year. Newspapers got in on the act, and her swimsuited image appeared in more than 300 papers and magazines.
 Though Bunny's modeling career was booming, the same couldn't be said for her job at the finance company. Her boss was becoming exasperated with her frequent absences.
 "For heaven's sake, stop entering those contests or find another job," he said.
 Taking the hint, Bunny quit and joined Coronet as a full-time model.
 It was about this time that she began dating Chuck Schwind, a good-looking bodybuilder she met on the beach. Schwind was attending a photography course at the Lindsey Hopkins vocational center and came up with the idea that would change her life.
 "Why don't you pose for the class?" he said. "You might get some interesting pictures for your portfolio."
 So Bunny posed for the class, then watched as they developed their photos. She got a few pictures for her portfolio, but, more important, she decided to sign up for the course.
 The class was mainly male, and Bunny went along one day when several of them drove to a secluded part of the beach to photograph a girl who had agreed to pose nude. It was the first time she had seen a woman display her body for photographers, and she was struck by the exuberant innocence of it all.
 "The guys were enjoying it, but so was the girl," she recalls. "Something that might have shocked me a few months ago seemed like playful fun."
 Soon, Bunny had purchased a twin-lens Kodak Reflex camera, a less expensive version of the Rolleiflexes she would use later. Within weeks came a class assignment that would mark the beginning of her career as a professional photographer.
 Color photography was still fairly new in the early '50s, and the instructor at Lindsey Hopkins told his students: "Get some color film and just shoot anything that's colorful. We'll critique it later in class."
Determined to come up with something special, Bunny designed a leopard-skin bikini, then headed with a shapely friend to the Africa USA theme park in Boca Raton. There she persuaded the keepers to let her pose her model with a pair of cheetah cubs. When she showed the photos in class, the instructor was startled by the quality of her work.
 "These are really good," he said. "Why don't you try selling them to a magazine?"
 Bunny knew nothing about selling photos, so she wandered down to a newsstand and purchased several magazines that included glamorous pictures of models. One of them, Eye, seemed the most likely market for her cheetah shots, and she sent them off with a note.
 Within weeks, she received a check for $100 and a letter saying the photo had been selected for the magazine's cover. Bunny was stunned, and for the first time she seriously considered taking up photography as a profession.
 "The more I thought about it, the more sense it made," she says. "I knew how to pose and set up a photo, yet the guy behind the camera was making all the money. Why not do it myself?"
 She began selling photos to several magazines, sometimes photographing herself by use of an automatic timer, at other times hiring local models who would work for minimal fees. Because she didn't yet own a studio, she used the beach, going there at sunrise when the sands were deserted and the light was good.
 "This was pre-Playboy," she says, "and the magazines that accepted pin-up photos had titles like Sunbathing and Art Photography. The pay was low, so whenever I could I would pose myself. If the magazine wanted three models, I would hire two, set the timer and then dash over to join them for the shot."
 As well as her ability to work on both sides of the camera, Bunny had another advantage over her competition. Hours spent in home-ec classes at Miami Edison had honed her sewing skills, and she designed all the swimwear for herself and her models.
 "I would provide new outfits for each assignment," she recalls. "I'm not just talking swimsuits. I used scarves, negligees, sarongs – anything that would accentuate the model's natural sex appeal."
 Soon, magazine editors all over the country had heard about this young beauty who doubled as model and photographer. In 1952 U.S. Camera featured her photo on its cover with the headline: The World's Prettiest Photographer.
 Bunny began selling her work in earnest, with the nude shots going to the men's monthlies and the swimsuit photos to such mainstream magazines as Cosmopolitan, Esquire, Pageant, Redbook and Women's Wear Daily. Though she now employed a group of models, many of whom she had discovered, she still posed for some of the photos herself, though never nude. In 1960 she even appeared in the hallowed pages of Life, reclining in a swimsuit across a two-page spread. That year, a poll taken by the Profession-al Photographers of America named her one of the country's top women photographers.
 Women flocked to Bunny because they liked the idea of posing for another woman.
 "Models trust a female photographer because they think she'll be more compassionate about their flaws," she says. "And it's easier for a woman to ask a girl to take off her clothes."
 In 1954 Bunny met a young woman who had no qualms at all about her figure. Her name was Bettie Page, and she had already earned a reputation as one of the best photographer's models in New York. Bettie told Bunny she was in Miami to relax, but Bunny learned that, for Bettie, relaxation meant posing.
 "More than any other model I know, Bettie loved to be photographed," Bunny says. "She would pose for anyone, in any kind of pose you wanted."
 It was Bettie's eagerness to please that had caused her to take time out from New York. While in the Big Apple, she had worked with a photographer named Irving Klaw, who had posed her in leather and whips for bondage photos. Bettie had become known as "The Queen of Bondage," a title she hated.
 Bunny and Bettie hit it off right from the start. Over the next two years Bunny shot more than a thousand photos of Bettie Page, in swimsuits and in the nude, on the beach and in the studio. Some of their best work was shot at Bunny's old standby, the Africa USA theme park, where Bettie posed for hours at a time with the cheetahs, chimpanzees and zebras.
 It was her work with Bettie that brought Bunny to the attention of Hugh Hefner, who had just launched Playboy. One of her early photos of Bettie, showing her wearing a Santa Claus hat and very little else, became the magazine's first Christmas centerfold.
 "Today, Playboy pays in the tens of thousands for a spread," Bunny says. "But in those early days, Hefner didn't have much money. For that first Playboy photo I got $100, which included the fee I paid Bettie. Ten years later, when I published my eighth centerfold, I received $15,000, and the model was paid separately."
 Bunny's relationship with Bettie, though prolific, was destined to be short. In 1957 Bettie Page left Miami without warning or explanation. Bunny never saw her again, and only learned years later that Bettie had had a religious experience and was working for various Christian organizations.
 Though Bettie Page has become an icon of '50s cheesecake, she was not Bunny Yeager's most popular model in the early days.
 "The girl the magazines wanted most was Maria Stinger," Bunny says. "Mainly because she was a look-alike for Marilyn Monroe, who was then at the height of her fame. Unlike Bettie, Maria hated posing and needed a lot of persuading, but once she got started she was terrific."
 As the '50s merged into the '60s, it seemed that Bunny Yeager could do no wrong. She was working on a regular basis for Playboy and had posed for Hefner herself under the headline "Queen of the Playboy Centerfolds." She also had published several books, most notably Photo-graphing the Female Figure, which sold more than 300,000 copies. Her follow-up, How I Photograph Myself, led to an appearance with Johnny Carson on the Tonight Show in 1966 and guests spots on I've Got a Secret, To Tell the Truth and What's My Line.
 But then something happened that neither she nor Hefner had foreseen.
 It began in 1969, when the Baby Boomers embarked on their "summer of love," sparking the sexual revolution of the early '70s. The social restraints that had dictated the do's and don't's of glamour photography in the '50s and '60s were tossed aside. Full nudity, long forbidden in the movies, suddenly became the norm, and porno films such as Deep Throat and Behind the Green Door played to packed audiences all over the country.
 The men's magazines tried to keep pace, but this time it was not Playboy that led the way. A dozen new monthlies hit the newsstands, led by Bob Guccione's Penthouse and Larry Flynt's Hustler. These magazines had little interest in the girl-next-door approach that had made Playboy a publishing phenomenon in the '50s. Their models were blatantly sexual, and the photographs were always explicit. With its circulation sagging, Playboy fought back, reluctantly showing full frontal nudity for the first time.
 To the new wave of editors, Bunny was a dinosaur from the '50s.
 "Not that it mattered," she says. "The kind of photographs they wanted was something I wasn't prepared to do."
 Abandoned by the magazines, Bunny decided to start one of her own. As editor and publisher, she launched Florida Stage & Screen News, a trade monthly for entertainment professionals. She also moved back in front of the camera – only this time it was the movie camera. Through the '70s and early '80s she played small roles in a succession of Florida-based films, including Tony Rome and Lady in Cement starring Frank Sinatra, and Absence of Malice and Harry & Son starring Paul Newman. Later, she would extend her acting to roles in Miami Vice and other television series and make occasional appearances as a singer in South Florida nightclubs.
 In between, she raised her two daughters, Cherilu and Lisa, and spent time with her first husband, Bud Irwin, a Dade County police-detective-turned-magazine-writer.
 Though Bunny was content, she still missed the kind of work she had done for Playboy.
"Glamour photography has always been a pleasure for me," she says. "I like coming up with new poses and locations and working on outfits for the models to wear. Creatively, the '70s were the longest dry spell of my life."
 And then, in the '80s, tastes began to change again. A fickle public was growing bored with sexually explicit movies and magazines, and the Baby Boomers were becoming nostalgic for the more innocent days of their childhood. Demand for Bunny's books, especially Photographing the Female Figure, grew rapidly, and she produced a new book, Bunny's Honeys, raiding her archives for negatives of the women she had photographed 20 years earlier. By 1998, more than 1 million copies of her 24 books have been sold.
 Help also came from an unlikely source: the long-vanished Bettie Page, who was rapidly becoming an icon of '50s sex appeal. As Bettie's fame grew into a cult, she inspired fan clubs, look-alike contests, music videos, comic books ("The Rocketeer") and a fanzine ("The Bettie Pages"). Playboy ran a retrospective of Bunny Yeager's photos titled "The Bettie Boom," and the E! cable channel aired a Page biography that ended with a brief interview – though, at Bettie's insistence, her face was never shown.
Bunny realized that the hundreds of photos she had on file were once again a hot property. In the past few years she has contributed to many photo collections, including "Bettie Page in Jungleland," a reprise of those great old photos shot at the now-defunct Africa USA. Bunny's photos also have been featured recently on calendars, as a set of lithographic prints and as pinup trading cards.
 By 1998, Bunny was still working out of her office in Miami Shores, adding new photos to files that cover four decades. A great deal had changed since she began shooting nude models with her twin-lens Kodak, but Bunny Yeager Photography had become part of Florida folklore, a visual custodian of a more ingenuous, some would say happier time, in the Sunshine State.
 "In Florida there are beautiful girls everywhere," she said. "You just have to keep your eyes open."
 John Parkyn is the former editor of Sunshine magazine.
 Photo: Bunny Yeager and Bettie Page, taken at the Africa USA Theme Park in Boca Raton in 1954, from the May 24, 1998 issue of Sunshine Magazine, where this article, excerpted here, first appeared.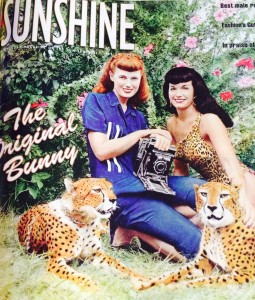 Related Articles
Share
About Author
(0) Readers Comments