By Greg Carannante
City & Shore Magazine
When it comes to feeding the hungry, a lot of people just talk the talk. Not Andy Cagnetta, though. He cooks the pasta.
Andy's Annual Family Pasta Dinner — in its 20th-annual iteration on Feb. 20 — is poised to top a total of $2 million raised to fight hunger in Broward County, where every day one in seven children goes to bed hungry. That stat comes from LifeNet4Families, the beneficiary of Cagnetta's fund-raising. The local non-profit provides necessary food and other services to those in need.
"Twenty years ago, I started with a simple idea to invite my friends and family to LifeNet4Families to share what great things they were doing for the community," Cagnetta says.
That "simple idea" in 2003 also incorporated a little fundraising dinner in the Fort Lauderdale organization's Community Kitchen that brought in $500. From that occasion has emerged a traditional, family-style pasta dinner that has attracted about 1,000 attendees annually and amassed a total of $1.9 million for LifeNet4Families. That equals almost 2 million meals to feed Broward's homeless and needy families.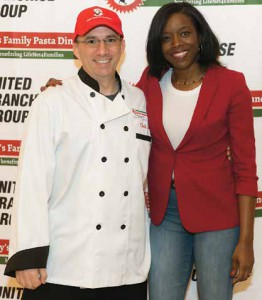 Cagnetta with Melanie Geddes, president and CEO of LifeNet4Families. Downtown Photo
This year's event, expected to raise $300,000, will be held at Signature Grand in Davie, where, as usual, Cagnetta will serve as Head Chef. A host of Honorary Chefs will be recognized for their accomplishments in fundraising, community service and leadership. Also recognized will be Junior Chefs, sponsored by Joe DiMaggio Children's Hospital, as part of the event's component designed to teach kids the importance of giving back. Silent and live auctions and children's activities are also on the menu.
Cagnetta is CEO of South Florida-based Transworld Business Advisors, known as one of the world's top business brokerages. Also recognized in the industry as a thought-leader, speaker and trainer, Cagnetta supports more than LifeNet4Families, for which he has served as chairman of the board. He's also involved with Junior Achievement of South Florida, United Way of Broward County, Pace Center for Women and others.
Tickets for Andy's Annual Family Pasta Dinner, presented by tech firm UKG, are $50 per adult; three adult tickets are $125; children 12 and under are free. For more info on tickets and sponsorship opportunities, please visit andyspastadinner.com.
Cagnetta, 56, who lives in Hollywood with his wife, Allison, and their children, put down his tongs to answer our recurring set of Quote Unquote questions.
 *****
Aside from the weather, what do you enjoy most about South Florida?
I love the diversity. People from all over the world have settled here and brought great food, festivals, cultural events, etc. It is so much fun to wander through several events that can be happening at once when on the beach or in one of our downtowns.
Aside from the weather, what do you dislike most about South Florida?
I really would love the ability to get around without jumping in a car. I love the Brightline train and use Tri-Rail when I can. I hope we can get more easily accessible mass transit that runs through our entire state soon.
Are you a beach person or a pool person?
I was a surfer when I was a young teen growing up in New Jersey, but without large waves in South Florida (the Bahamas are in the way), I tend to stick by my pool.
When in your life are you or have you been the happiest?
Right now. I tend to live in the moment and not dwell on the past. I truly have enjoyed my journey, but I get so excited just continuing to experience everything that comes my way. My family and business are in great places, so now is the best!
What do you do when you're stuck in a traffic jam on I-95?
I usually am listening to my collection of music. I have an old iPod hooked up to my car with a couple thousand songs and I tend to get lost listening to the music.
What music are you listening to now?
Mostly classic rock on the aforementioned iPod. I do like to hear new music as well. Lately I have been playing a band called Lawrence. Their soul-pop vibe is infectious. Check out their song Don't Lose Sight (Acoustic) on YouTube.
Are you a fan, and if so, of what?
My weakness is guitars. My collection continues to grow. My family manufactured Favilla Guitars for 90 years. I wrote a book about it: Favilla Familia: A History & Guidebook.
If you had to choose: Beatles or Stones?
That really is an unfair question. They are both amazing. If I had to pick it would be the Beatles. One of my Top 10 albums is Abbey Road. But I would throw them both out for Led Zeppelin.
What are your social media user names?
Instagram: acagnetta. Facebook: acags. Twitter: acags.
Apple or Android?
Android phone. But I have both platforms in my life. In my home studio I have Apple gear. Apple seems to be better for creative and Android for business.
Who is your real-life hero or heroine?
My grandfather, Sam. He worked the night shift in a book bindery in Brooklyn, N.Y. He was a super nice guy, strong ethics and welcomed all who knew him. Me and my brothers looked up to him.
What car are you driving now?
Audi A4, but it has way too many miles on it. Looking to make the electric jump soon.
If you had to choose: Rocky or Raging Bull?
Rocky. I mean they are both cool. But who hasn't run up the art museum steps in Philly with their arms up at the end?
What do you like most about yourself?
I am good at tolerating people, lol. Seriously, I think being able to listen to people and empathize with them is a life skill that has brought me much joy and eventual success in my life.
What places in South Florida do you recommend to guests visiting from out-of-town?
I like to take people from sea grass to the Everglades. When folks come into town, I like to head to downtown Fort Lauderdale, jump on a water taxi and roll around the New River and Intracoastal; jump off and walk up and down the beach; jump back on and grab lunch at 15th Street Fisheries; then another trip downtown for a cocktail on Las Olas. If the weather is good, an airboat ride at Everglades Holiday Park is another great day.
If you could change one thing about yourself, what would it be?
I want my hair back, lol. When I worked in the music industry selling guitars, I was able to have long hair and loved it. I am a frustrated lead guitar player at heart. However, my genetics have caught up with me.
What do you consider your greatest achievement?
I am blessed with having a lot of things to look back on. Of course, my wife and kids are my reason for living. And our success at Transworld Business Advisors has been nothing but spectacular. But perhaps the greatest thing beyond that is being able to give back to my community.
Main photo: Andy Cagnetta, photographed by Downtown Photo
Related Articles
Share
About Author
(0) Readers Comments