We got news we won two national FOLIO Magazine Awards, recognizing "excellence in engaging content and gorgeous design across all sectors of the publishing industry," in competition this month in New York City.
The first was for the March 2020 issue of City & Shore PRIME, which won the Eddie Award in the City & Regional Full Issue South East category (http://digitaledition.qwinc.com/publication/?m=24202&i=652237&p=0&pre=1). Contributors to that publication include Designer/Art Director Anderson Greene, and writers Greg Carannante, Robyn A. Friedman, Carrie Classon, Carol Brzozowski, Jana Soeldner Danger, Phillip Valys, Doreen Christiansen, Michael Mayo, Peg San Felippo, Barry Williams, Chris Jones and Elizabeth Rahe.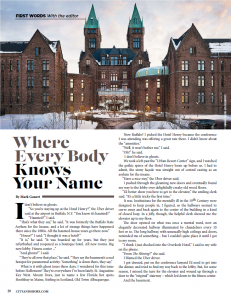 The other Eddy was in City & Regional Column/Blog competition for a collection of City & Shore Editor Mark Gauert's First Words columns, which included "Where Every Body Knows Your Name," "Our Madeleine Moments," "What I Didn't Know Then About the Super Bowl" and "Clothes to Home" (which also are available on our website, www.cityandshore.com). Special thanks to Elizabeth Rahe, who edits that column – and to designer Anderson Greene who makes it look so good.
We were looking forward to New York for the awards gala – it was such a blast in person last fall! – but the event has been canceled this pandemic year. "We're hoping to have everyone gather again in person for next year's ceremony," an organizer said. Here's to all the winners and honorable mentions – https://bit.ly/31SMJ32 - we hope to see you next year.
Until then, we're celebrating safely – at home or in cyberspace.
Work in our suite of publications – including PRIME, Explore Florida & the Caribbean and City & Shore – has been recognized this year with 13 state, regional and national awards, from the Society of Professional Journalists' Green Eyeshade Awards, the Society for Features Journalism, the Florida Magazine Association, the SPJ "Sunshine State Awards" and now the FOLIO Eddie & Ozzie Awards. We don't put out the magazines each month to win such awards – we'd rather win readers. But it's nice – and humbling – to be recognized for the work we do to win readers.
Thank you to the judges for your judgments – but especially to you, our readers, for reading.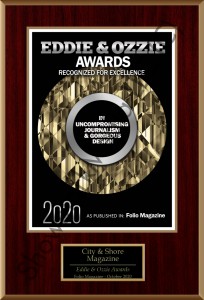 Related Articles
Share
About Author
(0) Readers Comments