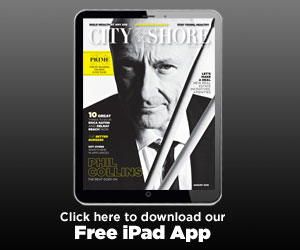 Free Tipsy Tow service from AAA for Labor Day weekend

If you party too hardy on Labor Day weekend, don't get behind the wheel and drive drunk. Instead, arrive alive with a designated driver or a free tow home starting at 6 a.m. Friday, Sept. 2 through 6 a.m. Tuesday, Sept. 6, with the AAA'a Tow to Go program. The offer is open to to […]

$2.50 grande cold drinks at Starbucks with treat receipt

Starbucks' treat receipt program is back!  Cool off in the afternoon with $2.50 cold drinks when you make a purchase  before 1:59 p.m. at participating stores to get a treat receipt. Use it after   2 p.m. to save a few bucks on 16-ounce cold beverages. Click here for the deal. The offer ends on...
Fashion porn: Miami Heat Dancers post new poster

Wearing a variety of racy red bikinis (where else could that happen but in SoFlo in the winter?), the Miami Heat Dancers have launched their poster. Heat-ster fans will get to see the haute-hot poster at tonight's game against the Toronto Raptors.

Fashion porn: Behind the scenes at Parke & Ronen's Miami photo shoot

Here are some behind-the-scenes photos from swimwear brand Parke & Ronen's latest photo shoot in Miami (Wynwood, Midtown, the Design District and several beaches) for their 2016 Resort Collection. Founded in 1997 by Parke Lutter and Ronen Jehezkel, the label has estavlished itself as a fashion...
Actor Gene Wilder, star of 'Willy Wonka,' dies at 83

Gene Wilder, the frizzy-haired actor who brought his deft comedic touch to such unforgettable roles as the neurotic accountant in "The Producers" and the deranged animator of "Young Frankenstein," has died. He was 83. Wilder's nephew said Monday that the actor and writer died late Sunday at his...

Huma Abedin, a top Clinton aide, is leaving husband Anthony Weiner amid new sexting scandal

Hillary Clinton aide Huma Abedin is done playing the good wife to Anthony Weiner, announcing Monday she is leaving the serially sexting ex-congressman after he was accused of sending raunchy photos and messages to yet another woman. Abedin, who as vice chair of Clinton's campaign is destined for...

Bank could seize City Hall as Opa-locka 'defaults' on millions

Opa-locka's largest lender declared the city in default on millions of dollars in loans in what could jeopardize the future of the city's most prized asset: City Hall.City National Bank of Florida, in a sharply worded letter to local officials, said Opa-locka has failed to meet its loan agreement...